For front passengers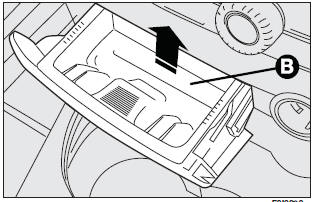 Pull the flap towards yourself. Remove the ashtray (B) by pulling it upwards as shown by the arrow for emptying it.
For rear passengers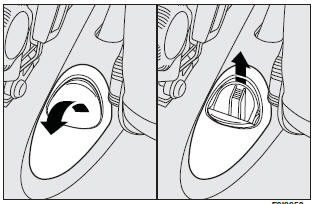 For rear passengers there is a concealed ashtray set on the central console.
Pull it as shown by the arrows for use and removal.
IMPORTANT Do not use the ashtray as waste paper basket: it might set on fire in contact with cigarettes stub.
Non smokers can remove both the front and rear ashtrays and use the handy oddment compartment which results.
See also:
Transmission Limp Home Mode
Transmission function is monitored electronically for abnormal conditions. If a condition is detected that could result in transmission damage, Transmission Limp Home Mode is activated. In this mo ...
Replacement Keys
NOTE: Only keys that have been programmed to the vehicle electronics can be used to start the vehicle. Once a Sentry Key has been programmed to a vehicle, it cannot be programmed to any other veh ...
Left-hand direction indicator
The warning light on the dial turns on when the direction indicator control lever is moved downwards or, together with the right indicator, when the hazard warning light button is pressed. ...