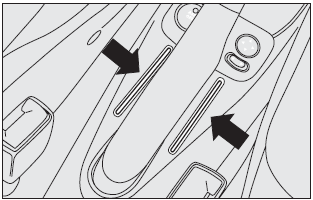 The slots for holding magnetic cards and tickets (phone card, toll slips, etc.) can be found on the central tunnel unit.
WARNING
Do not travel with the glove compartment open: risk of passengers' injury in case of accident.
See also:
EBD failure
(red) (amber) The turning on at the same time of warning lights with the engine running indicates an EBD system failure or that the system is unavailable; in this case heavy braking may cause ...
25. Temperature Gauge
The temperature digital scale shows engine coolant temperature. Any reading within the normal range indicates that the engine cooling system is operating satisfactorily. The gauge pointer will lik ...
Cellular phone set-up
The system set-up, combined with radio consists of: ❒ dual-purpose aerial (sound system + cellular phone 900/1800 MHz), on the car roof; ❒ dual-purpose connection wires and ten-pin c ...