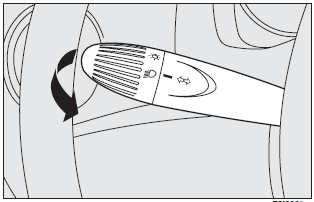 This function allows the illumination of the space in front of the car.
Activation
With the ignition key at STOP or removed, pull the left-hand stalk towards the steering wheel and operate it within 2 minutes from when the engine is turned off.
At each single movement of the stalk, the staying on of the lights is extended by 30 seconds up to a maximum of 3,5minutes, then the lights are switched off automatically.
Each time the lever is operated, the instrument panel warning light 3 turns on and the display will show the function activation time.
The warning light 3will turn on the first time the stalk is operated and it will stay on until the function is automatically deactivated. Each stalk operation will just extend the staying on of the lights.
Deactivation
Keep the stalk pulled towards the steering wheel for more than 2 seconds.
See also:
Technical Specifications
The complete system consists of: • Two 165 mm diameter midwoofer speakers, one speaker in each of the front doors. • Two 22 mm diameter tweeter speakers, one speaker in each of the front pillars. ...
Tailgate
Opening/closing the tailgate To open the tailgate from the outside, turn the ignition key in lock fig. 118 and pull handle A in the direction of the arrow. The opening of the boot is made easier b ...
Carrying children safely
For optimal protection in the event of a crash, all passengers must be seated and wearing adequate restraint systems. This is even more important for children. According to 2003/20/EC Directive, t ...