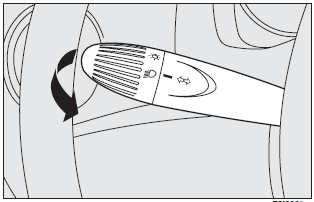 This function allows the illumination of the space in front of the car.
Activation
With the ignition key at STOP or removed, pull the left-hand stalk towards the steering wheel and operate it within 2 minutes from when the engine is turned off.
At each single movement of the stalk, the staying on of the lights is extended by 30 seconds up to a maximum of 3,5minutes, then the lights are switched off automatically.
Each time the lever is operated, the instrument panel warning light 3 turns on and the display will show the function activation time.
The warning light 3will turn on the first time the stalk is operated and it will stay on until the function is automatically deactivated. Each stalk operation will just extend the staying on of the lights.
Deactivation
Keep the stalk pulled towards the steering wheel for more than 2 seconds.
See also:
Front sidelights
To change the bulb, remove the protective cover (1), remove connector (A) and remove the bulb (B). ...
Radial-Ply Tires
WARNING! Combining radial-ply tires with other types of tires on your vehicle will cause your vehicle to handle poorly. The instability could cause an accident. Always use radial-ply tires in se ...
EVIC Control Buttons
Press the MENU ESC button briefly to access the menu and/or go to next screen or to confirm the required menu option. Press and hold the MENU ESC button (approximately one second) to return to the ...