After the "Initial check", it is possible to access the menu screen pressing the button

.
To surf the menu press buttons + or –.
IMPORTANT If after entering the menu no setting/adjustment is performed within 60 seconds, the system exits the menu automatically and returns to previously displayed screen. In this case the last selected but not confirmed setting (through button

) is not stored and therefore the operation shall be repeated (this stands valid also when quitting the Menu by pressing the

button).
When the car is running, it is possible to access only the reduced menu (for setting "Speed limit"). When the car is stationary access to the whole menu is enabled.
The following diagram shows the cases described.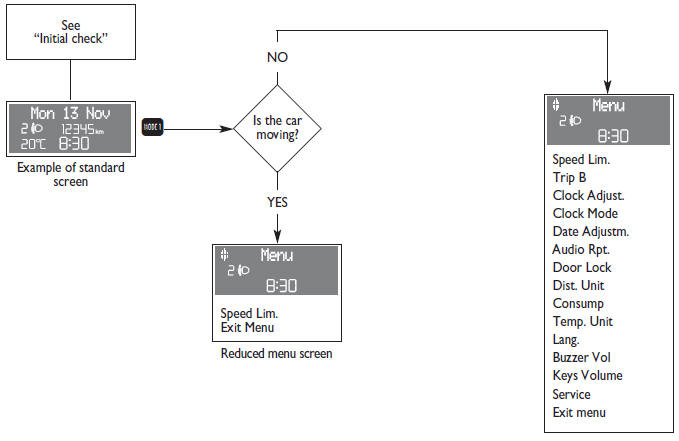 See also:
Maintaining Your Air Bag System
WARNING! • Modifications to any part of the air bag system could cause it to fail when you need it. You could be injured if the air bag system is not there to protect you. Do not modify the comp ...
Containing running costs
Here are some suggestions which may help you to keep the running costs of your car down and lower the amount of toxic emissions released into the atmosphere. ...
Electronic Brake Control System
Your vehicle is equipped with a advanced electronic brake control system that includes the Anti-Lock Brake System (ABS), Brake Assist System (BAS), Traction Control System (TCS), Hill Start Assis ...