After the "Initial check", it is possible to access the menu screen pressing the button

.
To surf the menu press buttons + or –.
IMPORTANT If after entering the menu no setting/adjustment is performed within 60 seconds, the system exits the menu automatically and returns to previously displayed screen. In this case the last selected but not confirmed setting (through button

) is not stored and therefore the operation shall be repeated (this stands valid also when quitting the Menu by pressing the

button).
When the car is running, it is possible to access only the reduced menu (for setting "Speed limit"). When the car is stationary access to the whole menu is enabled.
The following diagram shows the cases described.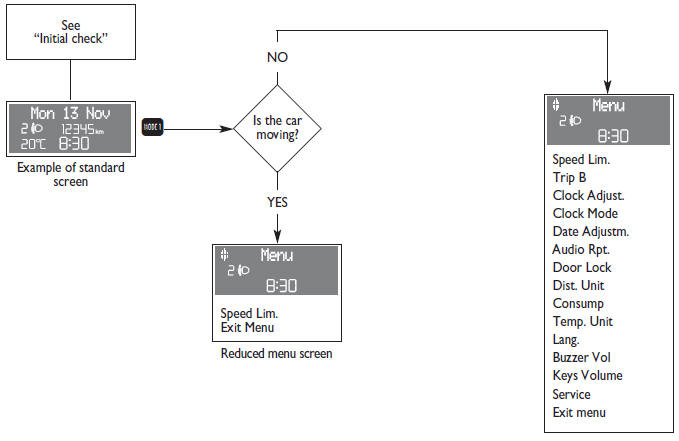 See also:
Front/Rear Side Marker Lamps
1. Remove portion of the wheel liner to allow hand access to side marker lamp. 2. Rotate the bulb socket counterclockwise, and remove the bulb and socket assembly from the housing. 3. Pull the bul ...
Scheduled servicing
Correct maintenance of the vehicle is essential for ensuring it stays in tiptop condition for a long time to come. This is why Fiat has programmed a series of checks and maintenance operations ev ...
General instructions
– When a light is not working, check that it has not fused before changing the bulb. – For the location of the fuses, refer to "If a fuse blows" in this chapter. – Before replacing a bulb that doe ...