To replace a bulb, press the tab in the point shown in fig. 33 and remove the cluster. Turn the bulb holder Afig. 34 anticlockwise and remove bulb B.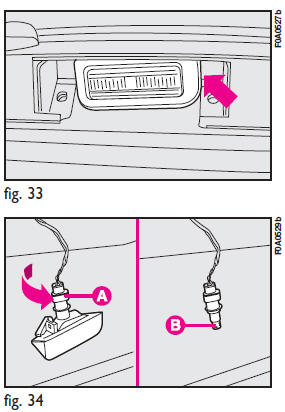 See also:
20. Brake Warning Light
This light monitors various brake functions, including brake fluid level and parking brake application. If the Brake Warning Light turns on it may indicate that the parking brake is applied, tha ...
CD MP3 Player
Introduction This chapter describes the operation of the CD MP3 player. NOTE: Layer-3 audio decoding technology is licensed from Fraunhofer IIS and Thomson multimedia. MP3 Mode In addition to p ...
Automatic Transmission – If Equipped
The automatic transmission and differential assembly are contained within a single housing. The fluid level in the automatic transmission should be checked whenever the vehicle is serviced. Opera ...