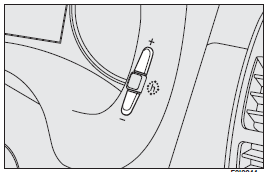 To adjust the time, press button (+) to increase minutes, button (Ц) to decrease minutes. Every press on the button increases or decreases by one unit. Keeping the corresponding button pressed obtains automatic fast increase or decrease. When you are near the required value, release the button and complete adjustment with single presses.
See also:
Refitting the standard wheel
Proceed as follows: ❒ Following the procedure described previously, raise the car and remove the spare wheel; ❒ Make sure the contact surfaces between wheel and hub are clean so ...
To memorise speed
Proceed as follows: ❒ turn the knurled ring (A) to ON and press the accelerator pedal to the required speed; ❒ turn the knurled ring (B) to (+) for at least three seconds, then relea ...
EBD failure
(red) (amber) The turning on at the same time of warning lights with the engine running indicates an EBD system failure or that the system is unavailable; in this case heavy braking may cause ...