1. Turn the steering wheel completely to the left or right.
2. Open the wheel housing access door.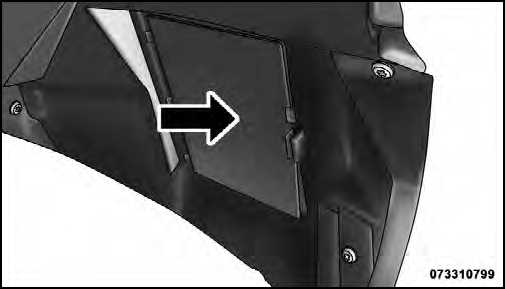 3. Remove the plastic cap from the back of the lamp housing.
4. Rotate bulb/socket counter-clockwise.
5. Remove the bulb and replace as needed.
6. Install the bulb into socket, and rotate bulb/socket clockwise into lamp locking it in place.
7. Reinstall the plastic cap.
See also:
Flashing the headlights
Pull the lever towards the steering wheel (unstable position) regardless of the position of the knurled ring. Instrument panel warning light 1will turn on. ...
Front sidelights
To change the bulb, remove the protective cover (1), remove connector (A) and remove the bulb (B). ...
ABS
The vehicle can be fitted with an ABS braking system, which prevents the wheels from locking when braking, makes the most of road grip and gives the best control when emergency braking under diffi ...