1. Turn the steering wheel completely to the left or right.
2. Open the wheel housing access door.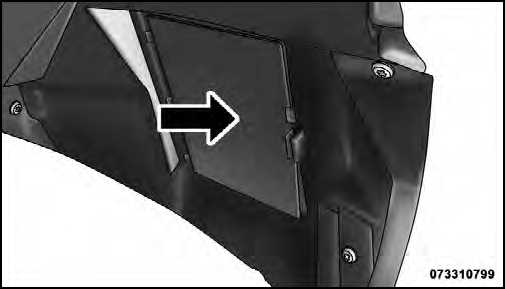 3. Remove the plastic cap from the back of the lamp housing.
4. Rotate bulb/socket counter-clockwise.
5. Remove the bulb and replace as needed.
6. Install the bulb into socket, and rotate bulb/socket clockwise into lamp locking it in place.
7. Reinstall the plastic cap.
See also:
Rear foglights
The warning light on the dial turns on when the rear fog lights are turned on. ...
Using the rear central seat belt
Seat belt without reel mechanism To fasten the seat belt: insert the tongue (A) into the buckle (B), until you hear it click. To unfasten the seat belt: press button (C). To adjust the belt: sl ...
Containing running costs and pollution
Some suggestions which may help you to keep the running costs of the vehicle down and lower the amount of toxic emissions released into the atmosphere are given below. ...