1. Turn the steering wheel completely to the left or right.
2. Open the wheel housing access door.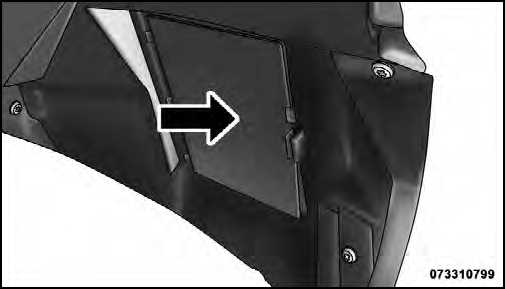 3. Remove the plastic cap from the back of the lamp housing.
4. Rotate bulb/socket counter-clockwise.
5. Remove the bulb and replace as needed.
6. Install the bulb into socket, and rotate bulb/socket clockwise into lamp locking it in place.
7. Reinstall the plastic cap.
See also:
Automatic Transmission – If Equipped
The Sport mode increases steering feedback to the driver with slight increase in effort and changes the transmission shift schedules for more aggressive shifting. This driving mode is useful while ...
Front ceiling light
With toggling lens The light will come on automatically when a front door is opened and go out when the door is closed. Press the short side of the lens to switch the light on and off when the d ...
SOUND system
Large oddment compartments in the dashboard and doors which make the passenger compartment even more comfortable can be fond in cars not equipped with a sound system set-up. A specific kit can be ...