In the event of an impact causing airbag deployment, if the communication network remains intact, and the power remains intact, depending on the nature of the event the ORC will determine whether to have the Enhanced Accident Response System perform the following functions:
Х Cut off fuel to the engine.
Х Flash hazard lights as long as the battery has power or until the ignition key is turned off.
Х Turn on the interior lights, which remain on as long as the battery has power or until the ignition key is removed.
Х Unlock the doors automatically.
After the event occurs, when the system is active, the message Fuel Cutoff See Handbook is displayed.
Carefully check the vehicle for fuel leaks in the engine compartment and on the ground near the engine compartment and fuel tank before resetting the system and starting the engine.
System Reset Procedure
After an impact causing airbag deployment, the left and right turn signal lights, located in the instrument panel cluster, will both be blinking, until the ignition is turned off.
In order to move your vehicle to the side of the road you must follow the system reset procedure.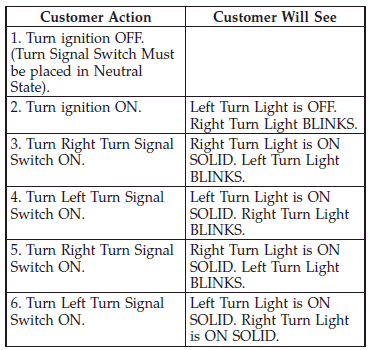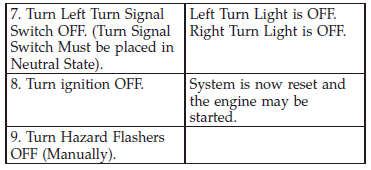 If a reset procedure step is not completed within 45 seconds, then the turn signal lights will turn off and the reset procedure must be performed again in order to be successful.
See also:
Tailgate
Opening/closing the tailgate To open the tailgate from the outside, turn the ignition key in lock fig. 118 and pull handle A in the direction of the arrow. The opening of the boot is made easier b ...
Engine coolant fluid
The coolant level shall be checked with cold engine and shall be included between the MIN and MAX mark on the reservoir. If the level is low, pour slowly a mixture of 50% distilled water and 50 ...
Climatic comfort
Knob (D) directs the air inside the passenger compartment according to five levels: air flow from central vents and side outlets; to warm the feet and keep the face cool (УbilevelФ function) ...