If a malfunction occurs and the shift lever cannot be moved out of the PARK position, you can use the following procedure to temporarily move the shift lever: 1. Firmly set the parking brake.
2. Remove the shift lever override access cover located on the right side of the shift lever housing.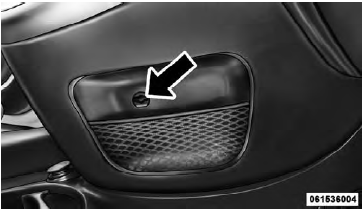 Shift Lever Override Access Cover
3. Turn the ignition switch to the ON/RUN position without starting the engine.
4. Press and maintain firm pressure on the brake pedal.
5. Using a small screwdriver or similar tool, push and hold the override release lever in.
6. Move the shift lever into the NEUTRAL position.
7. The vehicle may then be started in NEUTRAL.
8. Reinstall the shift lever override access cover.
See also:
ABS system
The car is fitted with an ABS braking system, which prevents the wheels from locking when braking, makes the most of road grip and gives the best control when emergency braking under difficult roa ...
If Your Engine Overheats
In any of the following situations, you can reduce the potential for overheating by taking the appropriate action. Х On the highways Ч slow down. Х In city traffic Ч while stopped, place the trans ...
Remote Keyless Entry (RKE) Ч If Equipped
This system allows you to lock or unlock the doors and liftgate from distances up to approximately 66 ft (20 m) using a hand-held Remote Keyless Entry (RKE) transmitter. The RKE transmitter does no ...