The spare tire is stowed to the underbody below the cargo area.
1. Remove the plug located in the rear cargo area.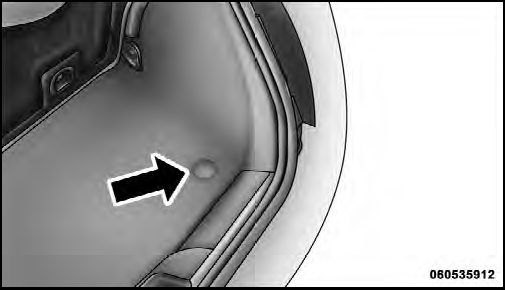 Winch Access Plug
2. Fit the wrench tool over the drive nut. Use the wrench to rotate the nut counterclockwise until the spare is on the ground with enough slack in the cable to allow you to pull the tire out from under the vehicle.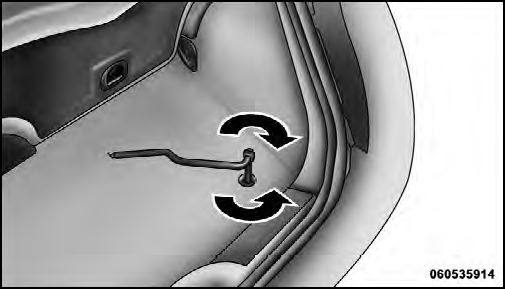 Lowering/Raising Spare Tire

CAUTION!
The winch mechanism is designed for use with the jack wrench tool only. Use of an air wrench or other power tools is not recommended and they can damage the winch.
3. Pull the spare tire out from under the vehicle.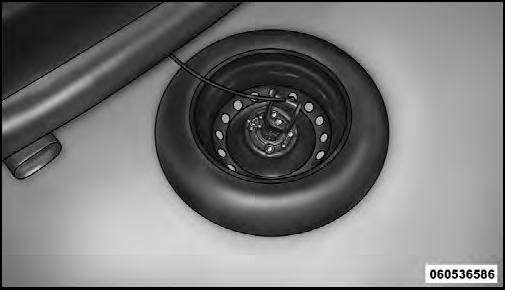 Spare Tire
4. When the spare is clear, remove the knob or plastic molded nut by rotating it counter-clockwise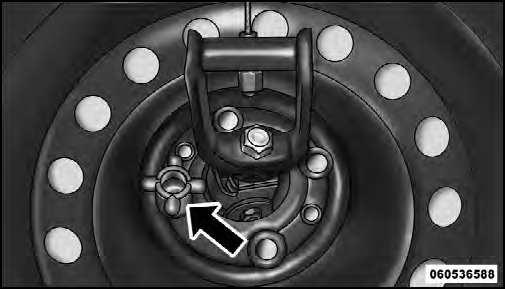 Plastic Molded Nut
5. Tilt the retainer at the end of the cable and pull it through the center of the wheel.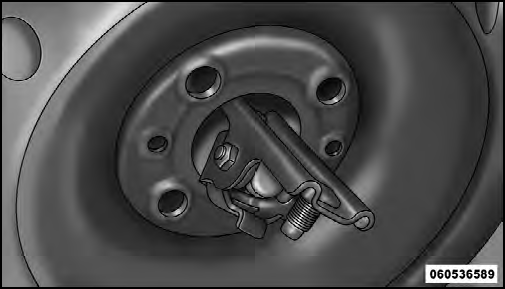 Retainer
See also:
Technical Specifications
The complete system consists of: Х Two 165 mm diameter midwoofer speakers, one speaker in each of the front doors. Х Two 22 mm diameter tweeter speakers, one speaker in each of the front pillars. ...
Using the rear central seat belt
Seat belt without reel mechanism To fasten the seat belt: insert the tongue (A) into the buckle (B), until you hear it click. To unfasten the seat belt: press button (C). To adjust the belt: sl ...
Sun Visors
The driver and passenger sun visors are located on the headliner, near the front windshield. The sun visor can be rotated downward or up against the door glass. Both sun visors are equipped with c ...