The driver and passenger sun visors are located on the headliner, near the front windshield. The sun visor can be rotated downward or up against the door glass. Both sun visors are equipped with courtesy mirrors.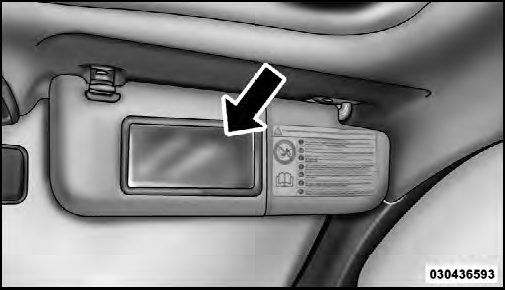 Sun Visor (Passenger Side Shown)
See also:
General instructions for using the seat belts
The driver must comply with (and have the vehicle occupants follow) all the local legal regulations concerning the use of seat belts. Always fasten the seat belts before starting. Seat belts are ...
17. Oil Pressure Warning Light
This light indicates low engine oil pressure. The light should turn on momentarily when the engine is started. If the light turns on while driving, stop the vehicle and shut off the engine as so ...
Front and side air bags
The car is fitted with driver's air bag. As optional it can be fitted with passenger's air bag, side bags and window bag. The front air bag (driver and passenger) has been designed to protect the o ...