To replace the bulb:
1) Remove the lens A-fig. 39 as shown by the arrow.
2) Open the bulb holder B and remove the bulb C (clipped in).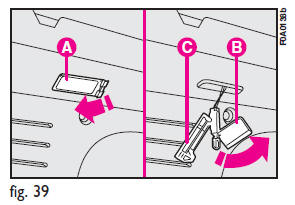 See also:
10. Cruise Indicator Ч If Equip
This indicator shows that the Speed Control system is on. ...
Engine coolant temperature gauge
This gauge shows the temperature of the engine coolant fluid and begins working when the fluid temperature exceeds approx. 50 ∞C. Under normal conditions, the needle should move to different positi ...
Operating Tips
Window Fogging Windows will fog on the inside when the humidity inside the vehicle is high. This often occurs in mild or cool temperatures when itТs rainy or humid. In most cases, turning the air ...