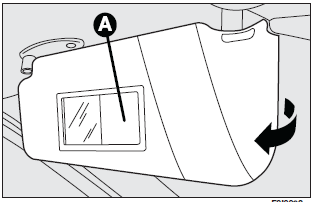 They are located at the sides of the driving mirror. They can be adjusted forwards and sidewards (this last adjustment is not possible on versions fitted with Front window bag).
A courtesy mirror is applied to the back of the passenger's side sun visor. On some versions, the driver's sun visor is fitted on the back with a courtesy mirror: Lift the lid (A) to use the mirror.
See also:
4. Low Fuel Light
When the fuel level reaches approximately 1.0 gallon (3.8L) this light will turn on, and remain on until fuel is added. ...
29. Speedometer
The Speedometer shows the vehicle speed in miles per hour (mph) and/or kilometers per hour (km/h). ...
Tyre pressure
Check the pressure of each tyre, including the spare, every two weeks and before long journeys. The pressure must be checked when the tyre is rested and cold. It is normal for the pressure to rise ...