This function allows the illumination of the space in front of the vehicle.
Turning the function on
With the ignition key at STOP or removed, pull the left-hand stalk towards the steering wheel and operate it within 2 minutes from when the engine is turned off.
At each single movement of the stalk, the staying on of the lights is extended by 30 seconds up to a maximum of 210 seconds; then the lights are switched off automatically.
Each time the lever is operated, the warning light

on the instrument cluster will come on and the display will show the time of activation.
The warning light comes on the first time the lever is operated and will stay on up to automatic function deactivation.
Each operation of the lever will extend lights switching on time.
Turning the function off
Keep the stalk pulled towards the steering wheel for more than 2 seconds.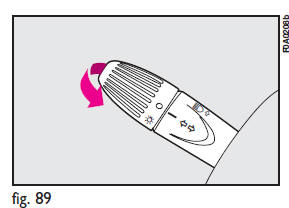 See also:
Trip Button
The TRIP button, located on the right steering column stalk, can be used to display and to reset the previously described values. • A short button press displays the different values. • A long but ...
Seat Belts And Pregnant Women
We recommend that pregnant women use the seat belts throughout their pregnancy. Keeping the mother safe is the best way to keep the baby safe. Pregnant women should wear the lap part of the belt ac ...
Recirculation
Move slider (B) to . This function is particularly useful when the outside air is heavily polluted (in a traffic jam, tunnel, etc.). However, it is better not to use it for long periods, especial ...