This function allows the illumination of the space in front of the vehicle.
Turning the function on
With the ignition key at STOP or removed, pull the left-hand stalk towards the steering wheel and operate it within 2 minutes from when the engine is turned off.
At each single movement of the stalk, the staying on of the lights is extended by 30 seconds up to a maximum of 210 seconds; then the lights are switched off automatically.
Each time the lever is operated, the warning light

on the instrument cluster will come on and the display will show the time of activation.
The warning light comes on the first time the lever is operated and will stay on up to automatic function deactivation.
Each operation of the lever will extend lights switching on time.
Turning the function off
Keep the stalk pulled towards the steering wheel for more than 2 seconds.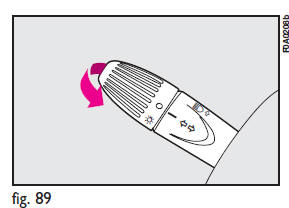 See also:
Wing window
IMPORTANT Open and close the wing window only when the vehicle is stationary. The Fiat Doblò may fit a handy wing window on the roof on the back of the load compartment to carry long object ...
Occupant Restraint Controller (ORC)
The ORC is part of a Federally regulated safety system required for this vehicle. The ORC determines if deployment of the front and/or side air bags in a frontal or side collision is required. Bas ...
Activation/deactivation (CITY function)
To connect/disconnect the CITY function, push the button located on the central tunnel . Activation of this function is indicated by the word CITY on the instrument panel (see figures beside). ...