This function allows the illumination of the space in front of the vehicle.
Turning the function on
With the ignition key at STOP or removed, pull the left-hand stalk towards the steering wheel and operate it within 2 minutes from when the engine is turned off.
At each single movement of the stalk, the staying on of the lights is extended by 30 seconds up to a maximum of 210 seconds; then the lights are switched off automatically.
Each time the lever is operated, the warning light

on the instrument cluster will come on and the display will show the time of activation.
The warning light comes on the first time the lever is operated and will stay on up to automatic function deactivation.
Each operation of the lever will extend lights switching on time.
Turning the function off
Keep the stalk pulled towards the steering wheel for more than 2 seconds.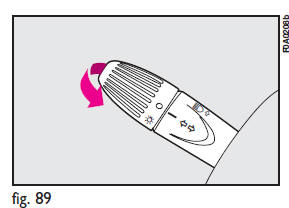 See also:
Engine Oil
Checking Oil Level To assure proper engine lubrication, the engine oil must be maintained at the correct level. Check the oil level at regular intervals, such as every fuel stop. The best time to ...
Important notes
For towing caravans or trailers the car must be fitted with a certified tow hook and an adequate electric system. Installation should be carried out by specialised personnel who release a special ...
Driving style
Starting Do not warm the engine with the car at a standstill or at idle or high speed: under these conditions the engine warms up much more slowly, increasing electrical consumption and emissions ...