This function allows the illumination of the space in front of the vehicle.
Turning the function on
With the ignition key at STOP or removed, pull the left-hand stalk towards the steering wheel and operate it within 2 minutes from when the engine is turned off.
At each single movement of the stalk, the staying on of the lights is extended by 30 seconds up to a maximum of 210 seconds; then the lights are switched off automatically.
Each time the lever is operated, the warning light

on the instrument cluster will come on and the display will show the time of activation.
The warning light comes on the first time the lever is operated and will stay on up to automatic function deactivation.
Each operation of the lever will extend lights switching on time.
Turning the function off
Keep the stalk pulled towards the steering wheel for more than 2 seconds.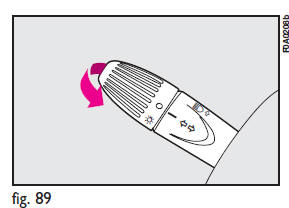 See also:
Parking
Proceed as follows: ❒ Stop the engine and engage the handbrake; ❒ Engage a gear (first if the car is faced uphill or reverse if it is faced downhill) and leave the wheels steered. B ...
Acceleration
Rapid acceleration on snow covered, wet, or other slippery surfaces may cause the driving wheels to pull erratically to the right or left. This phenomenon occurs when there is a difference in the ...
Bump starting
Catalyzed vehicles must not be bump started (pushed, towed or coasted down hill) as this could cause fuel to flow into the catalytic exhaust system and damage it beyond repair. Remember that u ...