This function allows the illumination of the space in front of the vehicle.
Turning the function on
With the ignition key at STOP or removed, pull the left-hand stalk towards the steering wheel and operate it within 2 minutes from when the engine is turned off.
At each single movement of the stalk, the staying on of the lights is extended by 30 seconds up to a maximum of 210 seconds; then the lights are switched off automatically.
Each time the lever is operated, the warning light

on the instrument cluster will come on and the display will show the time of activation.
The warning light comes on the first time the lever is operated and will stay on up to automatic function deactivation.
Each operation of the lever will extend lights switching on time.
Turning the function off
Keep the stalk pulled towards the steering wheel for more than 2 seconds.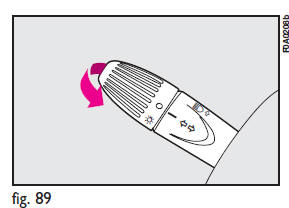 See also:
Sun visors
They are located at the sides of the driving mirror. They can be adjusted forwards and sidewards (this last adjustment is not possible on versions fitted with Front window bag). A courtesy mirr ...
Front Fog Lights — If Equipped
The fog light switch is located on the center stack of the instrument panel, just below the radio. Fog Light Switch Press the switch once to turn the front fog lights on. Press the switch a sec ...
Fan speed adjustment
Proceed as follows: ❒ open completely central vents and side outlets; ❒ turn knob (A) to the blue sector; ❒ slider (B) at ; ❒ turn knob (C) to the required speed; ...