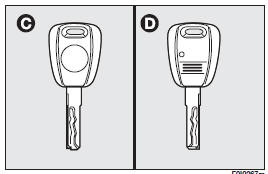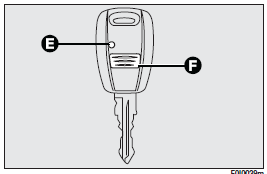 Key (B) (or (D) in alternative), delivered together with key (A) or (C) when the car is fitted with remote control, controls the following:
❒ the ignition switch;
❒ the door and boot locks;
❒ the fuel filler cap locking/unlocking (versions with fuel filler cap with keylock);
❒ the switch to deactivate the passenger's air bag (where provided).
Button (F) operates remote door locking/unlocking.
Led (E-where provided) comes on when sending the control to the system receiver.
When unlocking the doors, the internal lights will come on for a preset length of time.
IMPORTANT Certain radio devices outside the car (e.g. mobile phones, HAM radio systems) could disturb the remote control frequency. In this case the remote control could malfunction.
Replacing the battery of the key with remote control
If when pressing the remote control button, the led on the key flashes briefly only once, the battery should be replaced with an equivalent one that can be purchased at common stores.
Battery replacement:
❒ open the plastic case by inserting a screwdriver in recess (A);
❒ remove the run-down battery (B) and insert the new one respecting the polarity;
❒ close the plastic case.
Request for additional remote controls
The system can recognise up to 8 keys with incorporated remote control. Should a new key with remote control be necessary, contact a Fiat Dealership, taking with you the CODE card, a personal identity document and the car's ownership documents.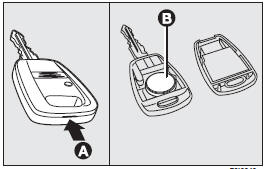 Used batteries are harmful to the environment. They should be disposed of as specified by law in the special containers provided, or take them to a Fiat Dealership, which will deal with their disposal.
See also:
Pretensioners
The Fiat Doblò (with passenger's air bag ) is fitted with pretensioners on the front side seats to improve the protection provided by the seat belts. These devices "feel", that a violent ...
High Beams
With the low beams activated, push the multifunction lever towards the instrument panel to turn on the high beams. Pull the multifunction lever toward the steering wheel to turn off the high bea ...
(B) Setting Up To Use TIREFIT
1. Turn the Mode Select Knob (5) to the Sealant Mode position. 2. Uncoil the Sealant Hose (6) and then remove the cap from the fitting at the end of the hose. 3. Place the TIREFIT kit flat on the ...