If the battery is flat, it is possible to start the engine using an auxiliary battery with the same capacity or a little higher than the flat one.
Proceed as follows:
❒ Connect positive terminals (+) of the two batteries with a jump lead;
❒ With a second lead, connect the negative terminal (Ц) of the auxiliary battery and to an earthing point

on the engine or the gearbox of the car to be started;
❒ Start the engine;
❒ When the engine has been started, remove the leads reversing the order above.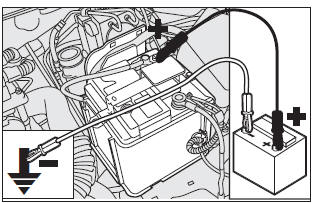 If after a few attempts the engine does not start, do not insist but contact the nearest Fiat Dealership.
IMPORTANT Do not directly connect the negative terminals of the two batteries: any sparks may ignite the detonating gas which could come out of the battery. If the auxiliary battery is installed on another car, avoid metal parts touching accidentally between this car and the one with the flat battery.
Never use a battery charger to start the engine as this could damage the electronic systems of your vehicle, particularly the ignition and fuel supply control units.
WARNING
This starting procedure must be carried out by qualified personnel because incorrect operations may cause electrical discharge of considerable intensity. The liquid contained in the battery is poisonous an corrosive. Avoid contact with the skin and eyes. Keep naked flames and lighted cigarettes away from the battery and do not cause sparks.
See also:
Automatic Locking Retractor Mode (ALR) Ч IfEquipped
In this mode, the shoulder belt is automatically prelocked. The belt will still retract to remove any slack in the shoulder belt. The Automatic Locking Mode is available on all passenger-seating po ...
Temperature Grades
The temperature grades are A (the highest), B, and C, representing the tireТs resistance to the generation of heat and its ability to dissipate heat, when tested under controlled conditions on a s ...
Inefficient abs system
(amber) Turning the ignition key to MAR the warning light turns on, but it should go off after few seconds. The warning light turns on when the system is inefficient or unavailable. In this ca ...