To change the halogen bulb, proceed as follows:
1) Remove the protection cover Cfig.
18 turning it counterclockwise;
2) Release clip A-fig. 19, remove connector B and remove the bulb C.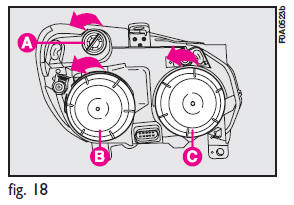 See also:
(B) Setting Up To Use TIREFIT
1. Turn the Mode Select Knob (5) to the Sealant Mode position. 2. Uncoil the Sealant Hose (6) and then remove the cap from the fitting at the end of the hose. 3. Place the TIREFIT kit flat on the ...
Manual Heating And Air Conditioning
Manual Temperature Control (MTC) 1. Temperature Control Rotate this control to regulate the temperature of the air inside the passenger compartment. Rotating the dial to the left into the blue ...
Front And Side Impact Sensors
In front and side impacts, impact sensors can aid the ORC in determining appropriate response to impact events. ...