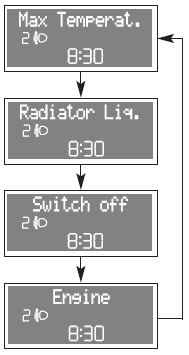 Turning the ignition key to MAR the warning light on the dial turns on, but it should go off after few seconds.
The warning light turns on (on certain versions together with the message on the display) when the engine is overheated. If the warning light comes on when driving, proceed as follows:
❒ Normal driving conditions: stop the car, switch off the engine and check whether the water level in the reservoir is not below the MIN mark. Otherwise wait for few seconds to allow engine cooling, then open slowly and carefully the cap, top up coolant and check whether its level is falling between MIN and MAX marks in the reservoir. Check visually any leak. If when restarting the warning light comes on again, contact a Fiat Dealership;

❒ Car heavy duty (e.g.: towing trailer uphill or fully laden car): decrease speed, if the warning light stays on, stop the car. Wait for 2 or 3 minutes leaving the engine on and slightly accelerated to further activate the circulation of the coolant fluid, then switch the engine off. Check proper coolant level as described previously.
IMPORTANT Under severe use of the car, keep the engine on and slightly accelerated for few minutes before switching it off.
See also:
Menu description
The menu comprises a series of functions arranged in a "circular fashion" which can be selected through buttons + and - for access to the different select operations and settings (see examples "La ...
Bump starting
Never bump start the engine (by pushing, towing or coasting downhill). This could cause fuel to flow into the catalytic converter and damage it beyond repair. IMPORTANT Remember that the servobrake ...
Using the seat belts
The belt should be worn keeping the chest straight and rested against the seat back. To fasten the belt, take hold the tongue (A) and insert it into the buckle (B), until hearing the locking cl ...