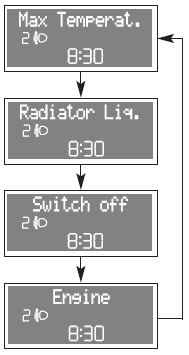 Turning the ignition key to MAR the warning light on the dial turns on, but it should go off after few seconds.
The warning light turns on (on certain versions together with the message on the display) when the engine is overheated. If the warning light comes on when driving, proceed as follows:
❒ Normal driving conditions: stop the car, switch off the engine and check whether the water level in the reservoir is not below the MIN mark. Otherwise wait for few seconds to allow engine cooling, then open slowly and carefully the cap, top up coolant and check whether its level is falling between MIN and MAX marks in the reservoir. Check visually any leak. If when restarting the warning light comes on again, contact a Fiat Dealership;

❒ Car heavy duty (e.g.: towing trailer uphill or fully laden car): decrease speed, if the warning light stays on, stop the car. Wait for 2 or 3 minutes leaving the engine on and slightly accelerated to further activate the circulation of the coolant fluid, then switch the engine off. Check proper coolant level as described previously.
IMPORTANT Under severe use of the car, keep the engine on and slightly accelerated for few minutes before switching it off.
See also:
To Resume Speed
To resume a previously set speed, push the RES (+) button and release. Resume can be used at any speed above 20 mph (32 km/h). ...
Transporting Pets
Air Bags deploying in the front seat could harm your pet. An unrestrained pet will be thrown about and possibly injured, or could injure a passenger during panic braking or in a collision. Pets sh ...
Dashboard
The presence and the position of the instruments and warning lights may vary according to the versions. 1. Side swivel vent - 2. Side fixed vent - 3. Oddment compartment - 4. Horn - 5. Instrume ...