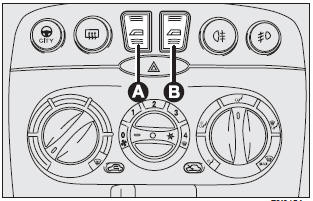 CONTROLS
Power windows are controlled by two switches located on the dashboard when the key is at MAR:
(A): to open/close the front left-hand window;
(B): to open/close the front right-hand window;
On certain versions the following is also possible:
❒ to open/close front windows within about 2 minutes with key at STOP or removed (with side doors closed);
❒ to press button (A) for longer than half a second to activate the automatic operation of the driver's window: the window will stop when it reaches the end of its travel or until the button is pressed again.
WARNING
Improper use of the electric windows can be dangerous. Before and during their operation ensure that any passengers are not at risk from the moving glass either by personal objects getting caught in the mechanism or by being injured by it directly. Always remove the ignition key when you get out of the car to prevent the electric windows being operated accidentally and constituting a danger to the people left in the car.
See also:
Parking Brake
Before leaving the vehicle, make sure that the parking brake is fully applied. Also, be certain to leave manual transmission in REVERSE or first gear. The parking brake lever is located in the cent ...
Low engine oil pressure
Turning the key to MAR the warning light on the dial turns on, but it should go off as soon as the engine is started. If the warning light turns on when the car is travelling (on certain ver ...
(E) After Driving
Pull over to a safe location. Refer to "Whenever You Stop to Use TIREFIT" before continuing. 1. Turn the Mode Select Knob (5) to the Air Mode position. 2. Uncoil the power plug and insert the plug ...