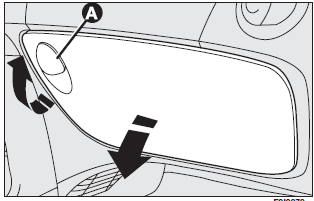 Operate handle (A) as shown by the arrow to open the compartment.
See also:
Containing running costs and pollution
Some suggestions which may help you to keep the running costs of the vehicle down and lower the amount of toxic emissions released into the atmosphere are given below. ...
Front seat belt height adjustment
Always adjust the height of the seat belt to fit the person wearing it. This precaution could greatly reduce the risk of injury in case of collision. Correct adjustment is obtained when the belt ...
Engine starting
It is dangerous to let the engine run in a garage or other closed area. The engine consumes oxygen and gives off carbon dioxide, carbon monoxide and other poisonous fumes. Do not touch the high ...