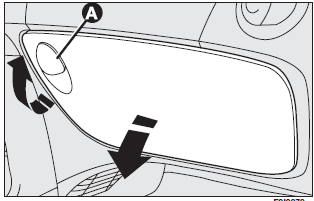 Operate handle (A) as shown by the arrow to open the compartment.
See also:
Front direction indicators
To change the bulb, proceed as follows: 1) Turn the bulb holder A-fig. 18 and remove it. 2) Remove bulb by pushing it slightly and turning it anticlockwise (bayonet coupling). ...
Types of bulbs
Several types of bulbs are installed in the vehicle fig. 17: A Glass bulbs Clipped into position. To remove them, pull. B Bayonet connection bulbs Remove from the bulb holder by pressing the bulb ...
Wheel And Wheel Trim Care
All wheels and wheel trim, especially aluminum and chrome-plated wheels, should be cleaned regularly with a mild soap and water to prevent corrosion. To remove heavy soil, use MOPAR Wheel Cleaner ...