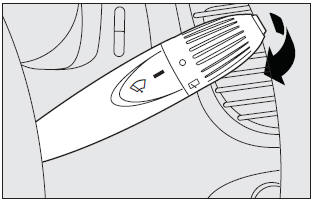 Pulling the stalk towards the steering wheel (unstable position) operates the windscreen washer; indeed, the latter comes into action automatically if the stalk is pulled for more than half a second.
The wiper stops working three strokes after releasing the stalk. On certain versions a further "cleaning stroke", after a few seconds, completes the wiping operation.
Operating the stalk quickly and repeatedly (for less than half a second) it is possible to wet the windscreen several times without operating the wiper.
Never use the window wiper to remove ice or snow from the windscreen. In these conditions, the wiper is submitted to excessive effort that results in motor protection cutting in and wiper operation inhibition for few seconds as a consequence. If operation is not restored contact Fiat Dealership.
See also:
Manual Transmission – If Equipped
The Sport mode increases steering feedback to the driver with slight increases in effort and throttle pedal-to-engine response. This driving mode is useful while driving on twisty roads where more ...
Shallow Standing Water
Although your vehicle is capable of driving through shallow standing water, consider the following Caution and Warning before doing so. CAUTION! • Always check the depth of the standing water bef ...
Seats
Seats are a part of the Occupant Restraint System of the vehicle. WARNING! • It is dangerous to ride in a cargo area, inside or outside of a vehicle. In a collision, people riding in these areas ...