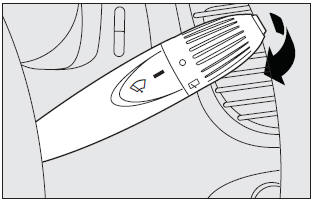 Pulling the stalk towards the steering wheel (unstable position) operates the windscreen washer; indeed, the latter comes into action automatically if the stalk is pulled for more than half a second.
The wiper stops working three strokes after releasing the stalk. On certain versions a further "cleaning stroke", after a few seconds, completes the wiping operation.
Operating the stalk quickly and repeatedly (for less than half a second) it is possible to wet the windscreen several times without operating the wiper.
Never use the window wiper to remove ice or snow from the windscreen. In these conditions, the wiper is submitted to excessive effort that results in motor protection cutting in and wiper operation inhibition for few seconds as a consequence. If operation is not restored contact Fiat Dealership.
See also:
Ignition device
The key can be turned to 4 different positions fig. 26: – STOP: engine off, key can be removed, steering column locked. Some electrical devices can be worked (e.g. sound system, electric window wi ...
Recommended Shift Speeds
To use your manual transmission for optimal fuel economy, it should be upshifted as listed in the following table ...
Speed limit (Speed Lim.)
With this function it is possible to set the car speed limit which, if exceeded, automatically sounds a buzzer and makes the warning light è with the special message on the display (see "Wa ...