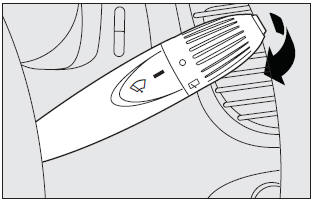 Pulling the stalk towards the steering wheel (unstable position) operates the windscreen washer; indeed, the latter comes into action automatically if the stalk is pulled for more than half a second.
The wiper stops working three strokes after releasing the stalk. On certain versions a further "cleaning stroke", after a few seconds, completes the wiping operation.
Operating the stalk quickly and repeatedly (for less than half a second) it is possible to wet the windscreen several times without operating the wiper.
Never use the window wiper to remove ice or snow from the windscreen. In these conditions, the wiper is submitted to excessive effort that results in motor protection cutting in and wiper operation inhibition for few seconds as a consequence. If operation is not restored contact Fiat Dealership.
See also:
Rev counter
Rev. counter B-fig. 33 - 34 shows engine rpm. IMPORTANT The electronic system progressively blocks fuel flow to prevent engine from overrevving. This will lead to a progressive loss of engine po ...
Automatic Transmission – If Equipped
The shift lever must be in the PARK or NEUTRAL position before you can start the engine. Apply the brakes before shifting to any driving gear. NOTE: You must press the brake pedal before shifting ...
Containing running costs
Here are some suggestions which may help you to keep the running costs of your car down and lower the amount of toxic emissions released into the atmosphere. ...