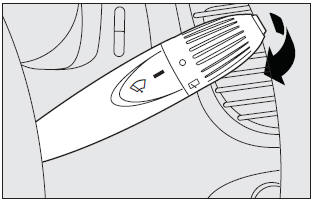 Pulling the stalk towards the steering wheel (unstable position) operates the windscreen washer; indeed, the latter comes into action automatically if the stalk is pulled for more than half a second.
The wiper stops working three strokes after releasing the stalk. On certain versions a further "cleaning stroke", after a few seconds, completes the wiping operation.
Operating the stalk quickly and repeatedly (for less than half a second) it is possible to wet the windscreen several times without operating the wiper.
Never use the window wiper to remove ice or snow from the windscreen. In these conditions, the wiper is submitted to excessive effort that results in motor protection cutting in and wiper operation inhibition for few seconds as a consequence. If operation is not restored contact Fiat Dealership.
See also:
Carrying children safely
For optimal protection in the event of a crash, all passengers must be seated and wearing adequate restraint systems. This is even more important for children. According to 2003/20/EC Directive, t ...
How to start diesel versions
1) Ensure that the handbrake is up. 2) Put the gear lever into neutral. 3) Turn the ignition key to MAR. Instrument panel warning lightswill come on. 4) Wait for warning lights to turn off. 5 ...
Vehicle Identification Number
The Vehicle Identification Number (VIN) is found on the left front corner of the instrument panel, visible through the windshield. This number also appears engraved on the right front door sill un ...