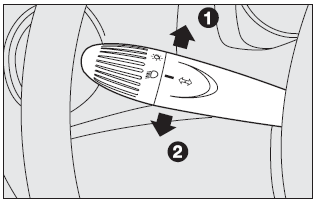 Push the lever to stable position:
❒ up (position 1): engage the right-hand direction indicator;
❒ down (position 2): engage the left-hand direction indicator.
Warning light

or

will come on flashing on the instrument cluster at the same time.
Indicators are switched off automatically when the steering wheel is straightened.
If you want the indicator to flash briefly to show that you are about to change lane, move the stalk up or down without clicking into position (unstable position). When released the stalk will return to its home position.
See also:
Front seat belt height adjustment
Always adjust the height of the seat belt to fit the person wearing it. This precaution could greatly reduce the risk of injury in case of collision. Correct adjustment is obtained when the belt ...
MMT In Gasoline
MMT is a manganese containing metallic additive that is blended into some gasoline to increase the octane number. Gasoline blended with MMT offers no performance advantage beyond gasoline of the ...
To open the bonnet
Proceed as follows: ❒ pull lever (A) in the direction of the arrow; ❒ press lever (B) as shown by the arrow; ❒ open the bonnet and release the rod (C) from its clip at th ...