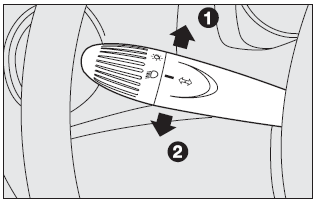 Push the lever to stable position:
❒ up (position 1): engage the right-hand direction indicator;
❒ down (position 2): engage the left-hand direction indicator.
Warning light

or

will come on flashing on the instrument cluster at the same time.
Indicators are switched off automatically when the steering wheel is straightened.
If you want the indicator to flash briefly to show that you are about to change lane, move the stalk up or down without clicking into position (unstable position). When released the stalk will return to its home position.