Some models are equipped with a driver's side spotter mirror. The spotter mirror allows for a greater range of visibility on the driver's side of the vehicle.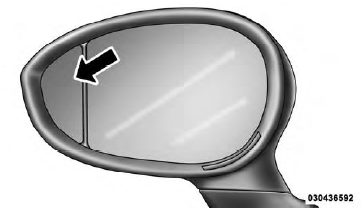 Spotter Mirror
See also:
9. Air Bag Warning Light
This light will turn on for four seconds as a bulb check when the ignition switch is first turned to ON/RUN. If the light is either not on during starting, stays on, or turns on while driving, h ...
Driving Through Water
Driving through water more than a few inches/ centimeters deep will require extra caution to ensure safety and prevent damage to your vehicle. ...
8. Generic Warning Light
The Generic Warning Light will illuminate if any of the following conditions occur: Oil Change Request, Engine Oil Pressure Sensor Failure, External Light Failure, Fuel Cut-Off Intervention, Fue ...