Some models are equipped with a driver's side spotter mirror. The spotter mirror allows for a greater range of visibility on the driver's side of the vehicle.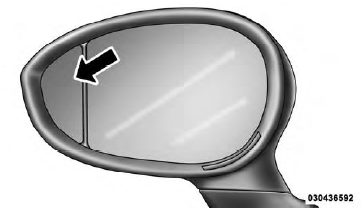 Spotter Mirror
See also:
Automatic Transmission – If Equipped
The shift lever must be in the PARK or NEUTRAL position before you can start the engine. Apply the brakes before shifting to any driving gear. NOTE: You must press the brake pedal before shifting ...
Refuelling
To ensure full tank refuelling, carry out two top-up operations once the delivery gun has turned off twice. Avoid further top-up operations which could cause faults in the fuel system. The car mu ...
Electronic Stability Control (ESC)
This system enhances directional control and stability of the vehicle under various driving conditions. ESC corrects for oversteering or understeering of the vehicle by applying the brake of the a ...