1. Place the shift lever in PARK (if equipped with an automatic transmission).
2. Turn the ignition switch to the ACC/ON/RUN position.
3. Rotate the key to the OFF/LOCK position.
4. Remove the key from the ignition switch lock cylinder.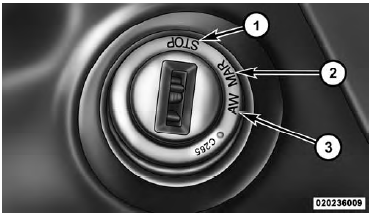 Ignition Switch Positions
1 — STOP (OFF/LOCK)
3 — AVV (START)
2 — MAR (ACC/ON/RUN)

WARNING!
• Before exiting a vehicle, always apply the parking brake, shift the transmission into PARK, and remove the key fob from the ignition. When leaving the vehicle, always lock your vehicle.
• Never leave children alone in a vehicle, or with access to an unlocked vehicle.
• Allowing children to be in a vehicle unattended is dangerous for a number of reasons. A child or others could be seriously or fatally injured. Children should be warned not to touch the parking brake, brake pedal or the shift lever.
• Do not leave the key fob in or near the vehicle, and do not leave the ignition in the ACC or ON/RUN position. A child could operate power windows, other controls, or move the vehicle.
• Do not leave children or animals inside parked vehicles in hot weather. Interior heat build-up may cause serious injury or death.

CAUTION!
An unlocked car is an invitation to thieves. Always remove the key from the ignition and lock all the doors when leaving the vehicle unattended.
See also:
EOBD system
The EOBD system (European On Board Diagnosis) allows continuos diagnosis of the components of the car correlated with emissions. It also alerts the driver, by the turning on of the warning light ...
Transporting children safely
SERIOUS DANGER: Never place cradle child's seats not facing the running direction on the front seat of vehicles with passenger's airbag, which during inflation could cause serious injury, even ...
Petrol engines
Use only unleaded petrol. To prevent errors, the diameter of the fuel tank filler is too small to introduce a lead petrol pump filler. Use petrol with a rated octane number (R.O.N.) not lower than ...