Manual adjustment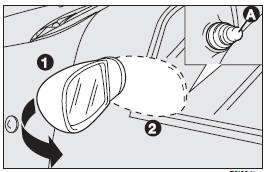 From the passenger compartment, use knob (A) to make the required adjustments. When required (for example when the mirror causes difficulty in narrow spaces) it is possible to fold the mirror moving it from position (1) to position (2).
Electrical adjustment (where provided)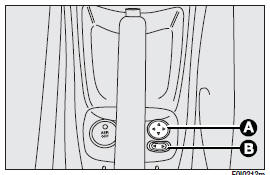 This operation can be only performed with ignition key to MAR. Proceed as follows:
❒ use switch (B) to select the mirror required (left or right);
❒ to adjust the mirror move (A) in the four directions;
IMPORTANT Any adjustment of the mirror position must be carried out only with the car stationary and handbrake engaged.
When driving the mirrors shall always be in position (1).
As the driver's door mirror is curved, it may slightly alter the perception of distance.
See also:
Manually deactivating passenger's front air bag (where required)
Should it be absolutely necessary to carry a child on the front seat, the passenger's air bag on the car can be deactivated. Deactivation/reactivation takes place with ignition key at STOP and op ...
Front light units
The front light units contain: sidelights, dipped beam, main beam and direction indicator bulbs. The bulbs are arranged inside the light unit as follows: (1): sidelights/main beam headlights; ( ...
Service schedule
(*) Or every 3 years for particularly demanding use: - cold/hot climates; - driving in the city idling for a long time; - dusty roads or roads covered with sand and/or salt Or every 5 years, r ...