Manual adjustment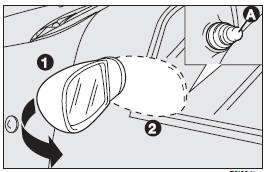 From the passenger compartment, use knob (A) to make the required adjustments. When required (for example when the mirror causes difficulty in narrow spaces) it is possible to fold the mirror moving it from position (1) to position (2).
Electrical adjustment (where provided)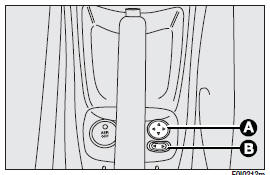 This operation can be only performed with ignition key to MAR. Proceed as follows:
❒ use switch (B) to select the mirror required (left or right);
❒ to adjust the mirror move (A) in the four directions;
IMPORTANT Any adjustment of the mirror position must be carried out only with the car stationary and handbrake engaged.
When driving the mirrors shall always be in position (1).
As the driver's door mirror is curved, it may slightly alter the perception of distance.
See also:
Front sidelights
To change the bulb, proceed as follows: 1) Remove the protection cover B-fig. 18 turning it counterclockwise; 2) Press tabs A-fig. 21, remove the bulb holder from housing B and remove the bulb C ...
Instrument Panel Bezels
CAUTION! When installing hanging air fresheners in your vehicle, read the installation instructions carefully. Some air fresheners will damage the finish of painted or decorated parts if allowed ...
Operation
Each time the car is started turning the ignition key to MAR, the Fiat CODE system control unit sends a recognition code to the engine control unit to deactivate the inhibitor. The code is sent o ...