Manual adjustment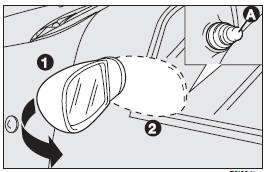 From the passenger compartment, use knob (A) to make the required adjustments. When required (for example when the mirror causes difficulty in narrow spaces) it is possible to fold the mirror moving it from position (1) to position (2).
Electrical adjustment (where provided)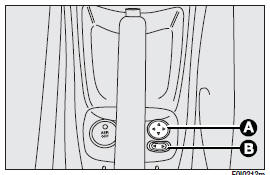 This operation can be only performed with ignition key to MAR. Proceed as follows:
❒ use switch (B) to select the mirror required (left or right);
❒ to adjust the mirror move (A) in the four directions;
IMPORTANT Any adjustment of the mirror position must be carried out only with the car stationary and handbrake engaged.
When driving the mirrors shall always be in position (1).
As the driver's door mirror is curved, it may slightly alter the perception of distance.
See also:
Radio Operation And Mobile Phones
Under certain conditions, the mobile phone being on in your vehicle can cause erratic or noisy performance from your radio. This condition may be lessened or eliminated by relocating the mobile ph ...
Parking sensors
The parking system detects and informs the driver (through an intermittent acoustic signal) about the presence of obstacles in the rear part of the car. ...
17. Oil Pressure Warning Light
This light indicates low engine oil pressure. The light should turn on momentarily when the engine is started. If the light turns on while driving, stop the vehicle and shut off the engine as so ...