Manual adjustment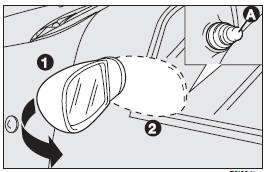 From the passenger compartment, use knob (A) to make the required adjustments. When required (for example when the mirror causes difficulty in narrow spaces) it is possible to fold the mirror moving it from position (1) to position (2).
Electrical adjustment (where provided)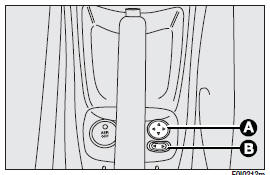 This operation can be only performed with ignition key to MAR. Proceed as follows:
❒ use switch (B) to select the mirror required (left or right);
❒ to adjust the mirror move (A) in the four directions;
IMPORTANT Any adjustment of the mirror position must be carried out only with the car stationary and handbrake engaged.
When driving the mirrors shall always be in position (1).
As the driver's door mirror is curved, it may slightly alter the perception of distance.
See also:
Scheduled servicing
Correct maintenance of the vehicle is essential for ensuring it stays in tiptop condition for a long time to come. This is why Fiat has programmed a series of checks and maintenance operations ev ...
If an interior light burns out
Modifications or repairs to the electrical system carried out incorrectly and without bearing the features of the system in mind can cause malfunctions with the risk of fire. See "If a bulb burn ...
Front Windshield Wiper Operation
There are five different modes of operation for the front windshield wipers. The windshield wiper lever can be raised or lowered to access these modes: Windshield Wiper Operation Windshield Wip ...