Manual adjustment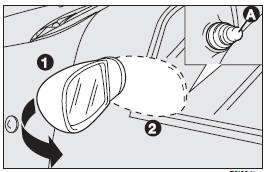 From the passenger compartment, use knob (A) to make the required adjustments. When required (for example when the mirror causes difficulty in narrow spaces) it is possible to fold the mirror moving it from position (1) to position (2).
Electrical adjustment (where provided)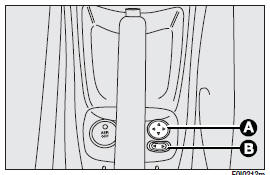 This operation can be only performed with ignition key to MAR. Proceed as follows:
❒ use switch (B) to select the mirror required (left or right);
❒ to adjust the mirror move (A) in the four directions;
IMPORTANT Any adjustment of the mirror position must be carried out only with the car stationary and handbrake engaged.
When driving the mirrors shall always be in position (1).
As the driver's door mirror is curved, it may slightly alter the perception of distance.
See also:
Seat Height Adjustment
The driver's seat height can be raised or lowered by using a lever, located on the outboard side of the seat. Pump the lever upward to raise the seat height, or pump the lever downward to lower t ...
Rear double doors
The double rear doors are fitted with a catch which stops the opening at an angle of approximately 90°. The catch system is designed to ensure the best comfort in use. An accidental knock or gus ...
Manual Transmission – If Equipped
Apply the parking brake, place the shift lever in NEUTRAL, and press the clutch pedal before starting the vehicle. This vehicle is equipped with a clutch interlocking ignition system. It will not ...