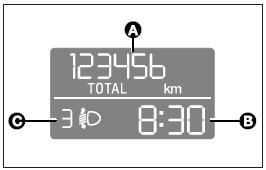 ❒ Total odometer (A).
❒ Clock (B).
With ignition key removed and front doors closed the display is off.
With ignition key removed, when opening one of the front doors the display comes on showing the clock and the odometer indication.
If the "Follow me home" function is on (see paragraph "Follow me home" in this section), the display will show the time the function is on instead of the mileage recorder indication (see figure).
See also:
Service (Service)
Through the "Service" function it is possible to receive information connected with correct vehicle maintenance. The "Service schedule" includes vehicle maintenance every 20,000 km (or 12,000 ...
Vehicle Identification Number
The Vehicle Identification Number (VIN) is found on the left front corner of the instrument panel, visible through the windshield. This number also appears engraved on the right front door sill un ...
Audio repetition (Audio Rpt.) (where provided)
With this function the display repeats information relevant to the Radio (selected radio station frequency or RDS message, automatic tuning or AutoSTore), audio CD (track number). ...