The car is delivered with two copies of the key and the CODE card which bears the following:
❒ the electronic code (A) to be used for emergency starting (see "Emergency starting" in section "Correct use of the car") ❒ the mechanical key code (B) to be given to the Fiat Dealership when ordering duplicate keys.
Make sure you have the electronic code (A) with you at all times in the event you have to perform an emergency start-up.
IMPORTANT In order to ensure perfect efficiency of the electronic devices contained inside the keys, they should never be exposed to direct sunlight.
U.K. VEHICLES ONLY
At the behest of the motor Insurance Companies the CODE card for emergency starting and remplacement of keys is not provided. If you need assistance please contact your nearest Fiat Dealership or telephone Free Phone 0800 717000.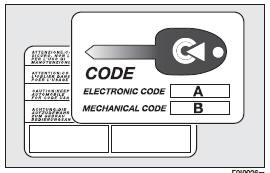 All the keys and the CODE card must be handed over to the new owner when selling the car.
See also:
ABS intervention
It is signalled by the blinking of the warning light á on the instrument panel, to inform the driver that the car is in critical stability and grip conditions. ...
Exhaust System
The best protection against carbon monoxide entry into the vehicle body is a properly maintained engine exhaust system. If you notice a change in the sound of the exhaust system; or if the exhaust ...
Bump starting
Never bump start the engine (by pushing, towing or coasting downhill). This could cause fuel to flow into the catalytic converter and damage it beyond repair. IMPORTANT Remember that the servobrake ...