The car is delivered with two copies of the key and the CODE card which bears the following:
❒ the electronic code (A) to be used for emergency starting (see "Emergency starting" in section "Correct use of the car") ❒ the mechanical key code (B) to be given to the Fiat Dealership when ordering duplicate keys.
Make sure you have the electronic code (A) with you at all times in the event you have to perform an emergency start-up.
IMPORTANT In order to ensure perfect efficiency of the electronic devices contained inside the keys, they should never be exposed to direct sunlight.
U.K. VEHICLES ONLY
At the behest of the motor Insurance Companies the CODE card for emergency starting and remplacement of keys is not provided. If you need assistance please contact your nearest Fiat Dealership or telephone Free Phone 0800 717000.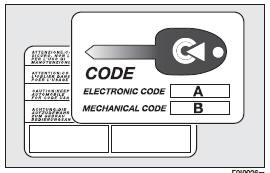 All the keys and the CODE card must be handed over to the new owner when selling the car.
See also:
Treadwear
The Treadwear grade is a comparative rating, based on the wear rate of the tire when tested under controlled conditions on a specified government test course. For example, a tire graded 150 would ...
Important notes
For towing caravans or trailers the car must be fitted with a certified tow hook and an adequate electric system. Installation should be carried out by specialised personnel who release a special ...
Radio transmitters and cellular telephones
Radio transceiver equipment (e.g.: etacs mobile phones, HAM radio systems and the like) shall not be used inside the vehicle unless a separate aerial is mounted on the roof. IMPORTANT The use of ...