The car is delivered with two copies of the key and the CODE card which bears the following:
❒ the electronic code (A) to be used for emergency starting (see "Emergency starting" in section "Correct use of the car") ❒ the mechanical key code (B) to be given to the Fiat Dealership when ordering duplicate keys.
Make sure you have the electronic code (A) with you at all times in the event you have to perform an emergency start-up.
IMPORTANT In order to ensure perfect efficiency of the electronic devices contained inside the keys, they should never be exposed to direct sunlight.
U.K. VEHICLES ONLY
At the behest of the motor Insurance Companies the CODE card for emergency starting and remplacement of keys is not provided. If you need assistance please contact your nearest Fiat Dealership or telephone Free Phone 0800 717000.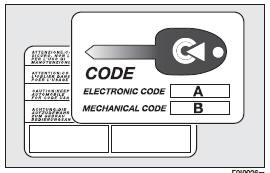 All the keys and the CODE card must be handed over to the new owner when selling the car.
See also:
Structure
Self-supporting chassis, three or five doors, high-resistance, multiple thickness structural elements for progressive energy absorption in impacts. Side bars in doors for side impact protection and ...
To reset the memorised speed
If the device has been disengaged for example pressing the brake or clutch pedal, the memorised speed can be reset as follows: ❒ accelerate gradually until reaching a speed approaching the o ...
If a bulb burns out
Modifications or repairs to the electrical system carried out incorrectly and without bearing the features of the system in mind can cause malfunctions with the risk of fire. You should have th ...