The car is delivered with two copies of the key and the CODE card which bears the following:
❒ the electronic code (A) to be used for emergency starting (see "Emergency starting" in section "Correct use of the car") ❒ the mechanical key code (B) to be given to the Fiat Dealership when ordering duplicate keys.
Make sure you have the electronic code (A) with you at all times in the event you have to perform an emergency start-up.
IMPORTANT In order to ensure perfect efficiency of the electronic devices contained inside the keys, they should never be exposed to direct sunlight.
U.K. VEHICLES ONLY
At the behest of the motor Insurance Companies the CODE card for emergency starting and remplacement of keys is not provided. If you need assistance please contact your nearest Fiat Dealership or telephone Free Phone 0800 717000.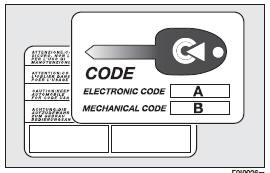 All the keys and the CODE card must be handed over to the new owner when selling the car.
See also:
Symbols
Special coloured labels have been attached near or actually on some of the components of your Fiat Punto. These labels bear symbols that remind you of the precautions to be taken as regards that p ...
Direction indicators
Push the lever to stable position: ❒ up (position 1): engage the right-hand direction indicator; ❒ down (position 2): engage the left-hand direction indicator. Warning light or w ...
Protecting the environment
The devices for curtailing petrol engine emissions are the following: ❒ three-way catalytic converter; ❒ Lambda sensor; ❒ fuel evaporation system. In addition, do not let the ...