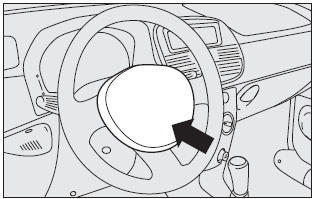 It consists of an instant-inflating cushion contained in a special recess in the centre of the steering wheel.
See also:
How to keep the seatbelts in proper working order at all times
1) When wearing the seat belts, always ensure they are not twisted and are free to wind in and out. 2) Following a serious accident, replace the belt being worn at that time, even if it does not ...
To Open
Press and hold the power sunroof switch rearward for approximately one second and the sunroof will stop at the vented position. Press the switch a second time and hold for approximately one second ...
Sunroof
It is controlled electrically and it will only work when the ignition key is at MAR. Sunroof is controlled by a switch. When you release it the roof locks in the position it is at that moment. ...