The Sport mode increases steering feedback to the driver with slight increases in effort and throttle pedal-to-engine response. This driving mode is useful while driving on twisty roads where more steering precision is desired in spirited cornering.
1. To activate the Sport mode, press the SPORT button.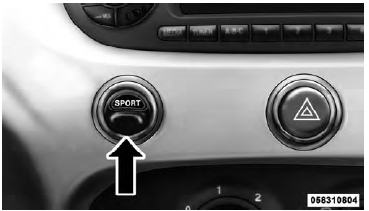 SPORT Button
Once activated, a SPORT message will be displayed in the instrument cluster.
2. Momentarily release the accelerator pedal.
3. Press the accelerator pedal again to activate.
See also:
Air Conditioner Maintenance
For best possible performance, your air conditioner should be checked and serviced by an authorized dealer at the start of each warm season. This service should include cleaning of the condenser f ...
Gasoline/Oxygenate Blends
Some fuel suppliers blend unleaded gasoline with oxygenates such as 10% Ethanol, MTBE, and ETBE. Oxygenates are required in some areas of the country during the winter months to reduce carbon mono ...
Reactive Head Restraints Ч Front Seats
The front driver and passenger seats are equipped with Reactive Head Restraints. In the event of a rear impact the Reactive Head Restraints will automatically extend forward minimizing the gap bet ...