To avoid draining your battery and lengthen its life, observe the following indications:
– when you park the vehicle, ensure the doors, tailgate and bonnet are closed properly;
– the ceiling lights must be off. The vehicle is however provided with an automatic system for switching off internal lights;
– do not keep accessories (e.g. sound system, hazard lights, etc.) switched on for a long time when the engine is not running;
– before performing any operation on the electrical system, disconnect the battery negative cable;
– battery terminals shall always be perfectly tightened.
IMPORTANT
A battery which is kept at a charge of less than 50% for any length of time will be damaged by sulphation leading to a reduction in cranking power and a higher risk of the battery electrolyte freezing (this may even occur at –10°C).
If the vehicle is inactive for a long period of time, refer to the "Vehicle storage" paragraph in section "Driving your vehicle".
If you want to add accessories after buying the vehicle (alarm system, freehand phone kit, etc.) visit a Fiat Dealership.
They can suggest the most suitable accessories to get and check whether the electric system can support the required load or whether a larger capacity battery is required.
These devices will, in fact, run off the battery even when the key is not inserted (vehicle parked) and can deploy the battery.
The total intake of these systems (factory and after-market) must be less than 0.6 mA x Ah (of the battery) as shown in the following table: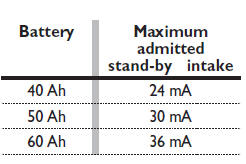 See also:
Heated Mirrors — If Equipped
These mirrors are heated to melt frost or ice. This feature is activated whenever you turn on the rear window defroster. Refer to "Rear Window Features" in "Understanding The Features Of Your Ve ...
Anti-Lock Brake System (ABS)
This system aids the driver in maintaining vehicle control under adverse braking conditions. The system controls hydraulic brake pressure to prevent wheel lockup and help avoid skidding on slipper ...
Petrol engines
Use only unleaded petrol. To prevent errors, the diameter of the fuel tank filler is too small to introduce a lead petrol pump filler. Use petrol with a rated octane number (R.O.N.) not lower than ...