To change the bulb, proceed as follows:
1) Turn the bulb holder A-fig. 18 and remove it.
2) Remove bulb by pushing it slightly and turning it anticlockwise (bayonet coupling).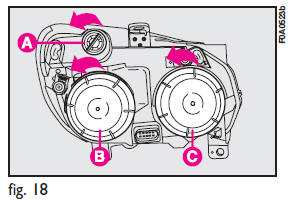 See also:
General information
The front and/or side airbags can be triggered if the vehicle is subjected to strong knocks or impacts underneath, e.g. violent crashes into steps, kerbs or fixed projections from the ground, fall ...
Air cleaner
REPLACING THE FILTER 1.28V version Loosen the screws on the side and on the air cleaner cover, remove the cover (A) and remove the filtering element (B) to be replaced. 1.3 Multijet versions L ...
Gasoline/Oxygenate Blends
Some fuel suppliers blend unleaded gasoline with oxygenates such as 10% Ethanol, MTBE, and ETBE. Oxygenates are required in some areas of the country during the winter months to reduce carbon mono ...