To change the bulb, proceed as follows:
1) Remove the protection cover B-fig. 18 turning it counterclockwise;
2) Press tabs A-fig. 21, remove the bulb holder from housing B and remove the bulb C (clipped in).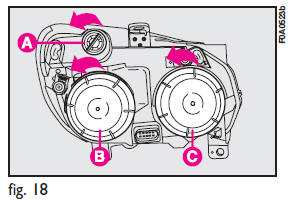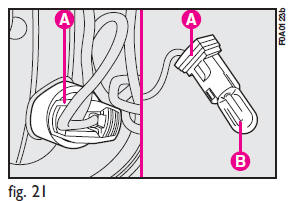 See also:
Inflating procedure
Put on the protection gloves provided together with quick tyre repair kit. – Pull up the handbrake. Loosen tyre inflation valve cap, take out the filler hose A-fig. 16c and screw the ring nut B-fi ...
Checking the charge
The battery charge may be checked through the indicator (where fitted) set on the battery cover and acting according to the colour the indicator shows. If the battery is not fitted with electrol ...
Driving style
Starting Do not warm the engine when the vehicle is stationary or at high or low revs: in this way the engine will warm up gradually increasing consumption and emissions. You should drive off slo ...