Several types of bulbs are installed in the vehicle fig. 17:
A Glass bulbs Clipped into position.
To remove them, pull.
B Bayonet connection bulbs Remove from the bulb holder by pressing the bulb and turning it anticlockwise.
C Cylindrical bulbs Remove by pulling away from terminals.
D-E Halogen bulbs To remove the bulb, release the clip holding the bulb in place.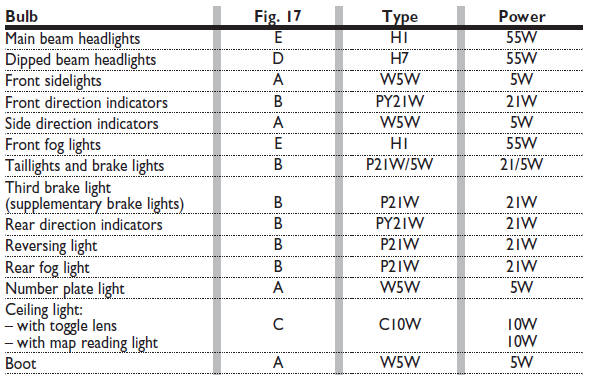 See also:
To Resume Speed
To resume a previously set speed, push the RES (+) button and release. Resume can be used at any speed above 20 mph (32 km/h). ...
Bump starting
Never bump start the engine (by pushing, towing or coasting downhill). This could cause fuel to flow into the catalytic converter and damage it beyond repair. IMPORTANT Remember that the servobrake ...
Diesel fuel filter sensor failure
The warning light on the dial comes on (on certain versions together with the message on the display) when dieel fuel filter sensor failure is detected. Contact Fiat Dealership as soon as poss ...