Several types of bulbs are installed in the vehicle fig. 17:
A Glass bulbs Clipped into position.
To remove them, pull.
B Bayonet connection bulbs Remove from the bulb holder by pressing the bulb and turning it anticlockwise.
C Cylindrical bulbs Remove by pulling away from terminals.
D-E Halogen bulbs To remove the bulb, release the clip holding the bulb in place.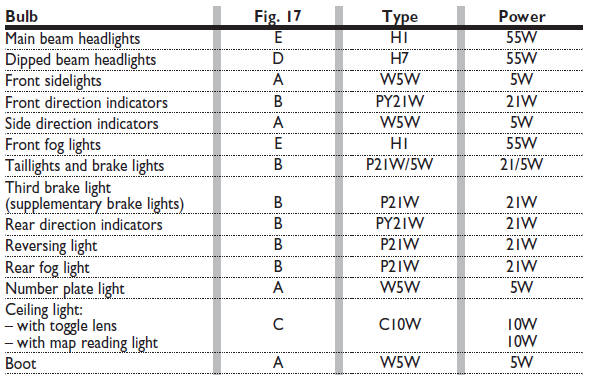 See also:
General instructions for using the seat belts
The driver is responsible for respecting and enforcing the local rules and laws regarding the use of seat belts. Always fasten the seat belts before starting. For maximum safety, keep the back of ...
Installation of electric / electronic devices
Electric/electronic devices installed after buying the car or in aftermarket shall bear the and marking: Fiat Auto S.p.A. authorizes the installation of transceivers provided that installation ...
Overview
The new 2012 Fiat Punto builds on the Italian company's heritage of producing mould-breaking, class leading small cars. Aimed at the most competitive and dynamic sector of the car market, the 2012 ...