The trailer tow hitch is to be fixed in the points indicated (see diagram fig. 4).
The plate 1 must have a minimum thickness of 6 mm. The fastening points 2 will be equipped with shims 􀂒16 x 2 mm. The tow hitch structure is fastened in the points shown with Ø by means of six M8 screws and four M10 screws.
Fasten the tow hitch to the body and trim the bumper with the frame provided with the assembly kit.
After fitting the tow hitch, the empty vehicle weight will increase by approximately 15.5 kg.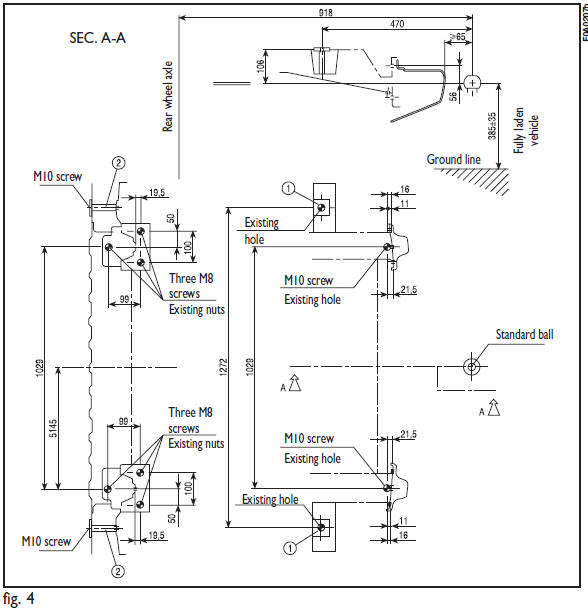 After 1000 km check that the tow hitch fastening screws are perfectly closed. Have this operation carried out at Fiat Dealership.
IMPORTANT
A clearly visible plate of a suitable size and made of suitable material bearing the following:
MAX LOAD ON BALL COUPLING 60 kg.

After assembly, seal the holes to prevent exhaust fumes from entering the vehicle.
See also:
Manual Operation
This system offers a full complement of manual override features. NOTE: Each of these features operates independently from each other. If any feature is controlled manually, temperature control wi ...
Instrument panel
1.4 8V - 1.3 Multijet - 1.9 М versions A - Speedometer (speed indicator) B - Fuel level gauge with reserve warning light C- Engine coolant temperature gauge and max. temperature warning light D ...
Additional braking light (third stop)
To change the bulb, proceed as follows: ❒ open the tailgate and loosen screws (A); ❒ release the clip (B) and open the bulb holder, the remove the bulb (C) to be replaced (clippe ...