The trailer tow hitch is to be fixed in the points indicated (see diagram fig. 4).
The plate 1 must have a minimum thickness of 6 mm. The fastening points 2 will be equipped with shims 􀂒16 x 2 mm. The tow hitch structure is fastened in the points shown with Ø by means of six M8 screws and four M10 screws.
Fasten the tow hitch to the body and trim the bumper with the frame provided with the assembly kit.
After fitting the tow hitch, the empty vehicle weight will increase by approximately 15.5 kg.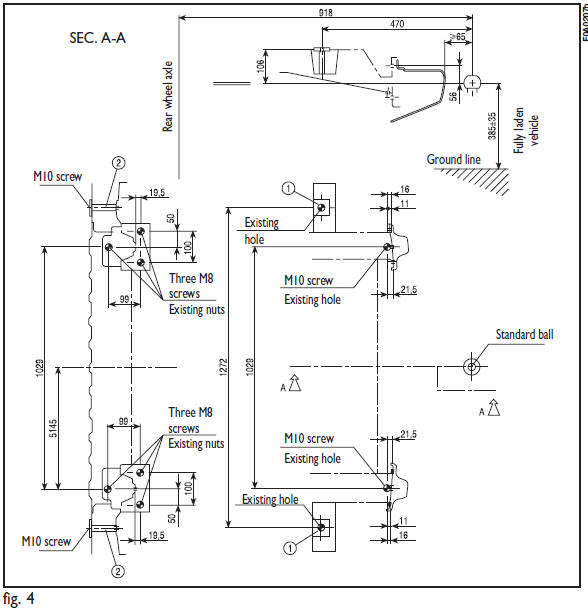 After 1000 km check that the tow hitch fastening screws are perfectly closed. Have this operation carried out at Fiat Dealership.
IMPORTANT
A clearly visible plate of a suitable size and made of suitable material bearing the following:
MAX LOAD ON BALL COUPLING 60 kg.

After assembly, seal the holes to prevent exhaust fumes from entering the vehicle.
See also:
Vehicle Storage
If you are leaving your vehicle dormant for more than 21 days, you may want to take these steps to protect your battery. Х Disconnect the negative cable from the battery. Х Anytime you store your ...
Engine coolant fluid
The coolant level shall be checked with cold engine and shall be included between the MIN and MAX mark on the reservoir. If the level is low, pour slowly a mixture of 50% distilled water and 50 ...
Air bag failure
(red) (where provided) Turning the ignition key to MAR the warning light turns on, but it should go off after few seconds. The warning light stays on glowing steadily if there is a failure in th ...