The trailer tow hitch is to be fixed in the points indicated (see diagram fig. 4).
The plate 1 must have a minimum thickness of 6 mm. The fastening points 2 will be equipped with shims 􀂒16 x 2 mm. The tow hitch structure is fastened in the points shown with Ø by means of six M8 screws and four M10 screws.
Fasten the tow hitch to the body and trim the bumper with the frame provided with the assembly kit.
After fitting the tow hitch, the empty vehicle weight will increase by approximately 15.5 kg.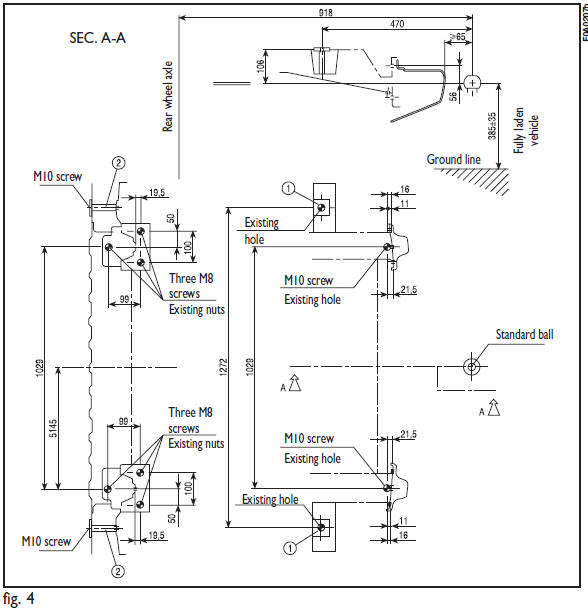 After 1000 km check that the tow hitch fastening screws are perfectly closed. Have this operation carried out at Fiat Dealership.
IMPORTANT
A clearly visible plate of a suitable size and made of suitable material bearing the following:
MAX LOAD ON BALL COUPLING 60 kg.

After assembly, seal the holes to prevent exhaust fumes from entering the vehicle.
See also:
19. Engine Temperature Warning Light
This light warns of an overheated engine condition. The engine coolant temperature indicator will illuminate and a single chime will sound after reaching a set threshold. If the light turns on w ...
SOUND system
Large oddment compartments in the dashboard and doors which make the passenger compartment even more comfortable can be fond in cars not equipped with a sound system set-up. A specific kit can be ...
Wing window
IMPORTANT Open and close the wing window only when the vehicle is stationary. The Fiat Doblò may fit a handy wing window on the roof on the back of the load compartment to carry long object ...