Parking sensors are located in the rear bumper to detect and inform the driver (through an intermittent acoustic signal) about the presence of obstacles behind the vehicle.
ACTIVATION
Sensors will activate automatically when engaging reverse gear.
The frequency of the acoustic alarm will increase as the distance between the vehicle and the obstacle decreases.
BUZZER WARNINGS
When the reverse gear is engaged an intermittent acoustic signal is automatically activated (short beep to signal system activation).
The acoustic signal frequency:
– becomes louder as the reduction of distance between the vehicle and the obstacle decreases;
– becomes continuous when the distance between the vehicle and the obstacle is less that 30 cm and stops immediately if the distance raises;
– is constant if the distance is unvaried.
IMPORTANT
In the event of a parking sensor system failure, you will hear an alarm signal when you engage reverse gear.
The sensors are shaped to fit into the bumpers and optimise scanning angles.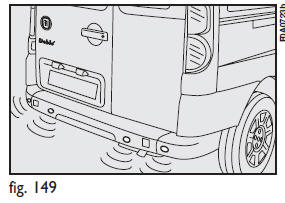 Detection distances:
Central ray ................................130 cm

Corner action range ................ 60 cm

Min/max range ................... 25/180 cm
If several sensors signal an obstacle, the control unit checks and indicates the closest one.
The system will automatically cut out also when reverse gear is engaged after a distance of 50 or after exceeding the speed of 30 km/h.

For proper operation, the parking sensors shall always be clean from mud, dirt, snow or ice. Therefore keep the rear bumpers clean to prevent irregular operation of the parking sensors.
See also:
Battery
The battery is of the "Limited maintenance" type: under normal conditions of use the electrolyte does not need topping up with distilled water. ...
Jump starting
If the battery is flat, it is possible to start the engine using an auxiliary battery with the same capacity or a little higher than the flat one. Proceed as follows: ❒ Connect positive ter ...
Carrying children safely
For optimal protection in the event of a crash, all passengers must be seated and wearing adequate restraint systems. This is even more important for children. According to 2003/20/EC Directive, t ...