See previous chapter for air distribution and heating/ventilation functions.
IMPORTANT
The manual climate control system is very useful for speeding up the demising process because it dries the air. Simply adjust the controls for the demisting function (see previous section) and switch the manual climate control system on by pressing knob A-fig. 78.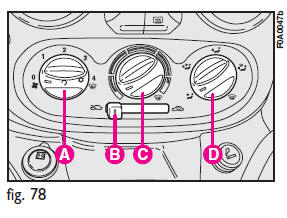 Maximum cooling
1) Air temperature knob C: pointer in the blue sector.
2) Fan knob A at fourth speed, pointer at 4

.
3) Slider B: at

.
4) Air distribution knob D: pointer at

5) Climate control system: press knob C-fig. 78.
To moderate the cooling effect: position slider B at

increase the temperature and reduce the fan speed.
See also:
Windscreen washer/wiper
This device can only work when the ignition key is at MAR. The stalk can be moved to five different positions: (A): windscreen wiper off (B): flick wipe: on certain versions, turning the knurled ...
Advice for preserving the bodywork
Paint Paintwork does not only serve an aestethic purpose, but also protects the underlying sheet metal. In the case of deep scrapes or scores, you are advised to have the necessary touching up c ...
Multifunction Lever
The multifunction lever, located on the left side of the steering wheel, controls the operation of the headlights, headlight beam selection, passing light and turn signals. NOTE: The external li ...