See previous chapter for air distribution and heating/ventilation functions.
IMPORTANT
The manual climate control system is very useful for speeding up the demising process because it dries the air. Simply adjust the controls for the demisting function (see previous section) and switch the manual climate control system on by pressing knob A-fig. 78.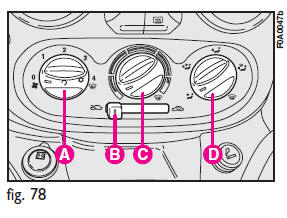 Maximum cooling
1) Air temperature knob C: pointer in the blue sector.
2) Fan knob A at fourth speed, pointer at 4

.
3) Slider B: at

.
4) Air distribution knob D: pointer at

5) Climate control system: press knob C-fig. 78.
To moderate the cooling effect: position slider B at

increase the temperature and reduce the fan speed.
See also:
Front seat belt height adjustment
Always adjust the height of the seat belt to fit the person wearing it. This precaution could greatly reduce the risk of injury in case of collision. Correct adjustment is obtained when the belt ...
Floor Mat Safety Information
Always use floor mats designed to fit the footwell of your vehicle. Use only floor mats that leave the pedal area unobstructed and that are firmly secured so that they cannot slip out of position ...
Life Of Tire
The service life of a tire is dependent upon varying factors including, but not limited to: Х Driving style Х Tire pressure Х Distance driven WARNING! Tires and the spare tire should be replac ...