The remote control is built into the ignition key. Press button A-fig. 4 to lock and unlock the doors.
Press button A to operate the system.
LED B (where required) will flash while the transmitter is sending the code to the receiver.
The ceiling light and map-reading light will come on for the predefined time when the doors are unlocked with the remote control.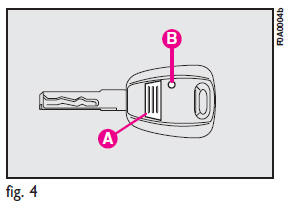 For ordering additional remote controls or replacing the batteries, see the following paragraphs.
IMPORTANT
The remote control system frequency can be disturbed by significant radio transmissions outside the vehicle (e.g: mobile phones, HAM radio systems, etc.) that could cause remote control malfunctioning.
Ministerial homologation
In accordance with the legislation covering radio frequencies in force in each country, we should like to point out that:
– the market-specific homologation numbers are listed in the paragraph "Radio-frequency remote controls" in section "Technical specifications".
– for markets requiring transmitter marking, the transmitter code is printed on the remote control.
ORDERING ADDITIONAL REMOTE CONTROLS
The system can recognize up to 8 keys with incorporated remote control.
If additional remote controls are required for any reasons, go to a Fiat Dealership, taking all the keys you own and the CODE card with you.
REPLACING THE BATTERIES
Change the batteries (using spare batteries of the same kind) as follows.
Open the plastic case by inserting a screwdriver in recess A-fig. 5. Insert new batteries B respecting the polarity and close the plastic case.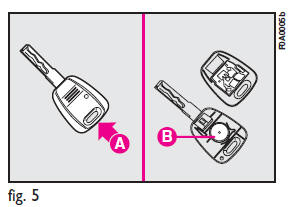 Used batteries are harmful to the environment.
They should be disposed of as specified by law in the special containers provided, or take them to a Fiat Dealership, which will deal with their disposal.
See also:
Containing running costs and pollution
Some suggestions which may help you to keep the running costs of the vehicle down and lower the amount of toxic emissions released into the atmosphere are given below. ...
Weights
(*) If special equipment is fitted (sunroof, tow hitch, etc.) the unladen car weight increases, thus reducing the specified payload. (**) Loads not to be exceeded. The driver is responsible for a ...