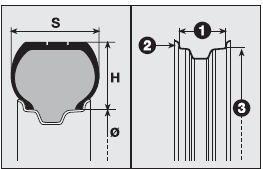 RIMS AND TYRES
Pressed steel or alloy rims. Tubeless tyres with radial carcass. The homologated tyres are listed in the Log book.
IMPORTANT In the event of discrepancies between the information provided on this "Owner handbook" and the "Log book", consider the specifications shown in the log book only.
Attaining to the prescribed size, to ensure safety of the car in movement, it must be fitted with tyres of the same make and type on all wheels.
IMPORTANT Do not use inner tubes with Tubeless tyres.
SPACE-SAVER SPARE WHEEL
Pressed steel rim. Tubeless tyre.
WHEEL GEOMETRY
Front wheel toe-in measured from rim to rim: 0 ±1 mm.
The values refer to the car in running order.
UNDERSTANDING TYRE MARKING
Example: 185/60 R 14 82 H
185 = Nominal width (S, distance between sidewalls in mm).
60 = Percentage height/width ratio (H/ S).
R = Radial tyre.
14 = Rim diameter in inches (Ø).
82 = Load rating.
H = Maximum speed rating.
Load rating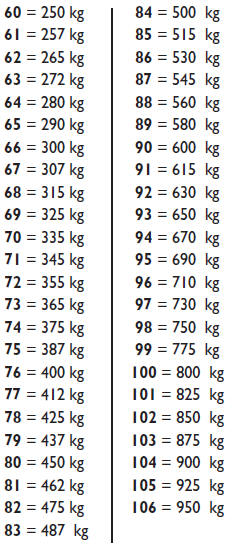 Maximum speed rating
Q = up to 160 km/h.
R = up to 170 km/h.
S = up to 180 km/h.
T = up to 190 km/h.
U = up to 200 km/h.
H = up to 210 km/h.
V = up to 240 km/h.
W= up to 270 km/h.
Y = up to 300 km/h.
UNDERSTANDING RIM MARKING
Example: 5 1/2 J x 14 H2 35
5 1/2 = rim width in inches (1).
J = rim drop center outline (side projection where the tyre bead rests) (2).
15 = rim nominal diameter in inches (corresponds to diameter of the tyre to be mounted) (3 = Ø).
H2 = "hump" shape and number (relief on the circumference holding the Tubeless tyre bead on the rim).
35 = wheel camber angle (distance between the disc/rim supporting plane and the wheel rim centre line).

Refer to the above mentioned table for information on the wheels where snow chains can be fitted. Follow the prescriptions.
COLD TYRE INFLATION PRESSURE (bar)

Add +0.3 bar to the prescribed inflation pressure when the tyres are warm. Recheck pressure value with cold tyres.
With snow tyres, add +0.2 bar to the inflation pressure value prescribed for standard tyres.
See also:
Air bag failure
Turning the ignition key to MAR the warning light on the dial turns on, but it should go off after few seconds. The warning light stays on glowing steadily (on certain versions together with t ...
Onboard Diagnostic System – OBD II
Your vehicle is equipped with a sophisticated onboard diagnostic system called OBD II. This system monitors the performance of the emissions, engine, and automatic transmission control systems. Wh ...
EVIC Displays
EVIC Display Manual Transmission 1 — Temperature Indicator 6 — Message Display 2 — Fuel Level Gauge 7 — Coolant Temperature Gauge 3 — Clock 8 — Digital Speedometer 4 — Odometer 9 — Ice ...