WITH THE JACK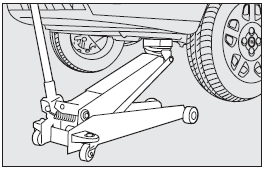 See "If a tyre is punctured" in this section.
WITH A SHOP JACK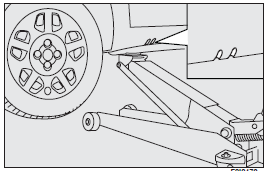 From the front
Jack up the car only by positioning the jack arm at the gearbox/differential and placing a rubber pad in between as shown in the figure.
From the side
The car can only be jacked up by positioning the arm at the reference points in the area shown in the figure. Place a piece of rubber of suitable thickness in between.
WITH AN ARM HOIST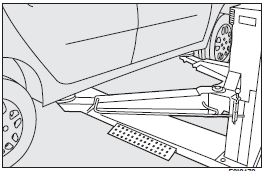 Jack up the car by arranging the ends of the arms in the areas shown in the figure.
See also:
Radio Operation And Mobile Phones
Under certain conditions, the mobile phone being on in your vehicle can cause erratic or noisy performance from your radio. This condition may be lessened or eliminated by relocating the mobile ph ...
Troubleshooting
General Sound Volume Low The Fader function should be adjusted to the values "F" (front) only to prevent the reduction in radio output power and the cancelling of the volume if the Fader level a ...
Radial-Ply Tires
WARNING! Combining radial-ply tires with other types of tires on your vehicle will cause your vehicle to handle poorly. The instability could cause an accident. Always use radial-ply tires in se ...