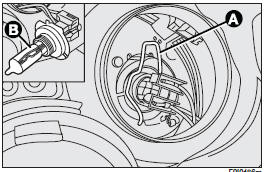 To change the bulb, remove the protective cover (2), release the catch (A) and remove the bulb (B).
See also:
Sidelights and low beams
(green) FOLLOW ME HOME (green) Side/taillights and low beams The warning light turns on when side/taillights or low beams are turned on. Follow me home The warning light will turn when this dev ...
Diesel engines
If the outside temperature is very low, the diesel thickens due to the formation of paraffins and could clog the diesel fuel filter. In order to avoid these problems, different types of diesel are ...
Car inactivity
If the car is to be left inactive for longer than a month, the following precautions should be noted: ❒ park the car in covered, dry and if possible wellventilated premises; ❒ engage ...