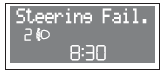 Turning the ignition key to MAR the warning light on the dial turns on, but it should go off after few seconds.
If the warning light stays on (on certain versions together with the message on the display), you will not have steering assistance and the effort on the steering wheel will be increased, steering is however possible. Contact Fiat Dealership.
See also:
Provisions for the processing of a vehicle at the end of its life-cycle
For years now Fiat has been developing its global commitment towards the safeguarding and protection of the Environment through the continuous improvement of its production processes and the makin ...
Glow plugs
Turning the ignition key to MAR, the warning light on the dial comes on and goes off when glow plugs reach the preset temperature. Start the engine immediately after warning light switching off. ...
Electric windows
According to versions, power window controls can be set on the dashboard (in central position) fig. 109, or on driver and passenger door panels fig. 109a. They only work with ignition key at MAR. ...