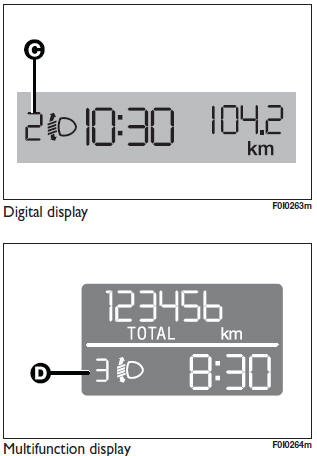 The car is fitted with electric headlight slant adjusting device working with ignition key to MAR and dipped beams on.
When the car is loaded, it slopes backwards. This means that the headlight beam rises. In this case, it is necessary to return it to the correct position.
To adjust the headlight slant, proceed as follows:
❒ hold button (B) pressed to increase by one position (e.g.: 0 ➨ 1,1 ➨ 2,2 ➨ 3);
❒ hold button (A) pressed to decrease by one position (e.g.: 3 ➨ 2,2 ➨ 1,1 ➨ 0).
Each position increase corresponds to a beam slant lowering (laden car).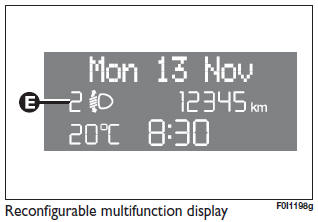 Correct positions as a function of the load
Position 0 - one or two people occupying the front seats.
Position 1 - five people.
Position 2 - five people + load in the boot.
Position 3 - driver + maximum permissible load stowed in the boot.
IMPORTANT Check beam aiming every time the load carried changes.
See also:
Front And Side Impact Sensors
In front and side impacts, impact sensors can aid the ORC in determining appropriate response to impact events. ...
Inside Day/Night Mirror
The mirror can be adjusted up, down, left, and right for various drivers. The mirror should be adjusted to center on the view through the rear window. Headlight glare from vehicles behind you can b ...
Containing running costs
Here are some suggestions which may help you to keep the running costs of your car down and lower the amount of toxic emissions released into the atmosphere. ...