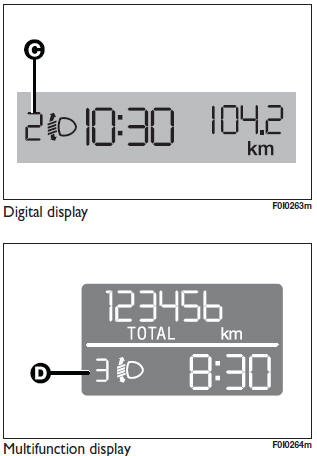 The car is fitted with electric headlight slant adjusting device working with ignition key to MAR and dipped beams on.
When the car is loaded, it slopes backwards. This means that the headlight beam rises. In this case, it is necessary to return it to the correct position.
To adjust the headlight slant, proceed as follows:
❒ hold button (B) pressed to increase by one position (e.g.: 0 ➨ 1,1 ➨ 2,2 ➨ 3);
❒ hold button (A) pressed to decrease by one position (e.g.: 3 ➨ 2,2 ➨ 1,1 ➨ 0).
Each position increase corresponds to a beam slant lowering (laden car).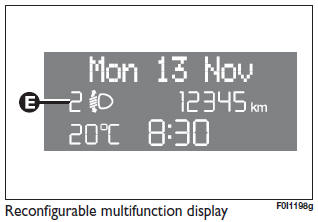 Correct positions as a function of the load
Position 0 - one or two people occupying the front seats.
Position 1 - five people.
Position 2 - five people + load in the boot.
Position 3 - driver + maximum permissible load stowed in the boot.
IMPORTANT Check beam aiming every time the load carried changes.
See also:
Front Seats Forward/Rearward Adjustment
The adjusting bar is located at the front of the seats, near the floor. Adjusting Bar While sitting in the seat, lift up on the bar and move the seat forward or rearward. Release the bar once t ...
General
A fuse is an element for protecting the electrical system. A fuse will trip (i.e. it will blow) in the event of a failure or improper interventions in the electrical system. If an electrical devi ...
Freeing A Stuck Vehicle
If your vehicle becomes stuck in mud, sand or snow, it can often be moved by a rocking motion. Turn your steering wheel right and left to clear the area around the front wheels. Then shift back an ...