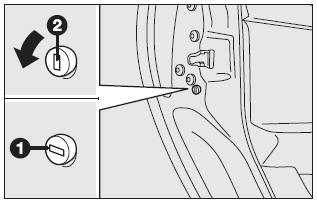 To prevent opening the rear doors from the inside.
This device can be engaged only with doors open:
❒ position 1 - engaged (door locked);
❒ position 2 - disengaged (door openable from inside).
The device is engaged even if the doors are unlocked by the centralised system.
IMPORTANT Always use the lock when transporting children.
IMPORTANT After engaging the lock, check by trying to open a rear door with the internal handle.
See also:
ABS intervention
It is signalled by the blinking of the warning light á on the instrument panel, to inform the driver that the car is in critical stability and grip conditions. ...
Exhaust System
The best protection against carbon monoxide entry into the vehicle body is a properly maintained engine exhaust system. If you notice a change in the sound of the exhaust system; or if the exhaust ...
25. Temperature Gauge
The temperature digital scale shows engine coolant temperature. Any reading within the normal range indicates that the engine cooling system is operating satisfactorily. The gauge pointer will lik ...