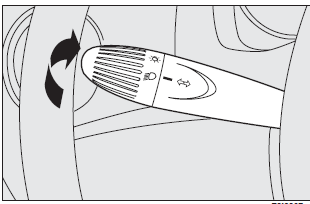 When the knurled ring is at

push the lever towards the dashboard (stable position).
The warning light

on the instrument cluster will come on.
Pulling the lever towards the steering wheel again, the main beams are turned off and the dipped beams on.
See also:
Underhood Fuses
The Front Distribution Unit is located on the right side of the engine compartment, next to the battery. To access the fuses, press the release tabs and remove the cover. Front Distribution ...
Set clock
Press button h. Each pulse on the button will obtain increase by one unit. Automatic fast increase is obtained by keeping the button pressed for few seconds. When you are near the required value, ...
Set-up menu
The number of items in the menu depends on the car settings. When travelling, only the "Speed limit" indication is enabled. The "Set-up Menu" enables to perform the following adjustments and/or sett ...