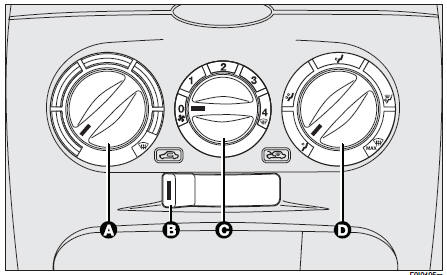 Proceed as follows:
❒ rotate knob (A) (pointer on

) completely to the right;
❒ turn knob (C) to the required speed;
❒ move knob (D) to:

to warm the feet and at the same time demist the windscreen;


to warm the feet and convey cooler air from central vents and dashboard outlets;


for quick heating.
See also:
Checking the charge
The battery charge may be checked through the indicator (where fitted) set on the battery cover and acting according to the colour the indicator shows. If the battery is not fitted with electrol ...
Replacement Parts
Use of genuine parts for normal/scheduled maintenance and repairs is highly recommended to ensure the designed performance. Damage or failures caused by the use of non-genuine parts for maintenanc ...
Auto-Down — If Equipped
The driver's door window switch may have an Auto- Down feature. Press the window switch for approximately one second, release, and the window will go Power Window Switches 2 THINGS TO KNOW BEFORE ...