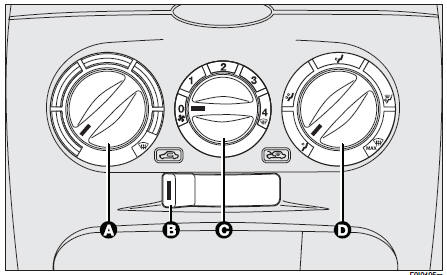 Proceed as follows:
❒ rotate knob (A) (pointer on

) completely to the right;
❒ turn knob (C) to the required speed;
❒ move knob (D) to:

to warm the feet and at the same time demist the windscreen;


to warm the feet and convey cooler air from central vents and dashboard outlets;


for quick heating.
See also:
Traction
When driving on wet or slushy roads, it is possible for a wedge of water to build up between the tire and road surface. This is known as hydroplaning and may cause partial or complete loss of vehi ...
Installation of electric/electronic devices
Electric/electronic devices installed after buying the car or in aftermarket shall bear the and marking: Fiat Auto S.p.A. authorizes the installation of transceivers provided that installation ...
Front seat belt height adjustment
Always adjust the height of the seat belt to fit the person wearing it. This precaution could greatly reduce the risk of injury in case of collision. Correct adjustment is obtained when the belt ...