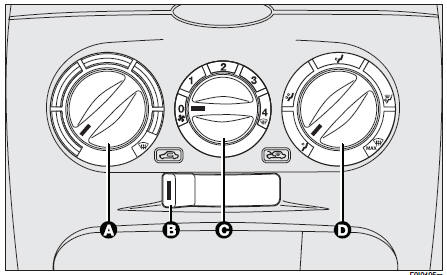 Proceed as follows:
❒ rotate knob (A) (pointer on

) completely to the right;
❒ turn knob (C) to the required speed;
❒ move knob (D) to:

to warm the feet and at the same time demist the windscreen;


to warm the feet and convey cooler air from central vents and dashboard outlets;


for quick heating.
See also:
E-85 Usage In Non-Flex Fuel Vehicles
Non-FFV vehicles are compatible with gasoline containing 10% Ethanol (E10). Gasoline with higher Ethanol content may void the vehicle's warranty. If a Non-FFV vehicle is inadvertently fueled with E ...
Fuel level gauge
The needle shows the fuel present in the tank. When the fuel reserve warning light A-fig. 35 - 36 comes on (on certain versions with the dedicated message on the reconfigurable multifunction displ ...
(D) Drive Vehicle
Immediately after injecting sealant and inflating the tire, drive the vehicle 5 miles (8 km) or 10 minutes to ensure distribution of the TIREFIT Sealant within the tire. Do not exceed 55 mph (88 k ...