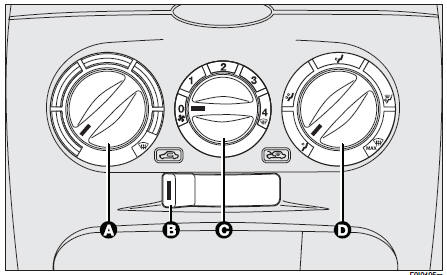 Proceed as follows:
❒ rotate knob (A) (pointer on

) completely to the right;
❒ turn knob (C) to the required speed;
❒ move knob (D) to:

to warm the feet and at the same time demist the windscreen;


to warm the feet and convey cooler air from central vents and dashboard outlets;


for quick heating.
See also:
Daytime Running Lights — If Equipped
To activate the Daytime Running Lights (DRL), rotate the end of the multifunction lever to the O symbol. NOTE: The low beams and side/taillights will not be on with DRL. The DRL function can be t ...
Ignition Key Removal
1. Place the shift lever in PARK (if equipped with an automatic transmission). 2. Turn the ignition switch to the ACC/ON/RUN position. 3. Rotate the key to the OFF/LOCK position. 4. Remove the key ...
Radio transmitters and cellular telephones
Radio transceiver equipment (e.g.: etacs mobile phones, HAM radio systems and the like) shall not be used inside the vehicle unless a separate aerial is mounted on the roof. IMPORTANT The use of ...