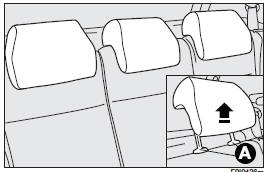 According to versions, two or three head restraints can be provided. To remove the head restraints, first remove the rear parcel shelf (see paragraph "Extending the boot"), press button (A) set aside the two supports and take them out.
Certain versions are fitted with three head restraints and central seat with seat belt with three anchoring points and reel.
WARNING
Remember that the head restraints should be adjusted to support the back of your head and not your neck. Only in this position do they exert their protective action.
WARNING
To optimise head restraint protective action, adjust the seat back upright and keep your head as close as possible to the head restraint.
See also:
Bump starting
Catalyzed vehicles must not be bump started (pushed, towed or coasted down hill) as this could cause fuel to flow into the catalytic exhaust system and damage it beyond repair. Remember that u ...
Handbrake
The handbrake lever is located between the two front seats. Pull the handbrake lever upwards until the car cannot be moved. Four or five clicks are generally enough when the car is on level ground ...
Engine coolant fluid
The coolant level shall be checked with cold engine and shall be included between the MIN and MAX mark on the reservoir. If the level is low, pour slowly a mixture of 50% distilled water and 50 ...