Through the "Service" function it is possible to receive information connected with correct vehicle maintenance.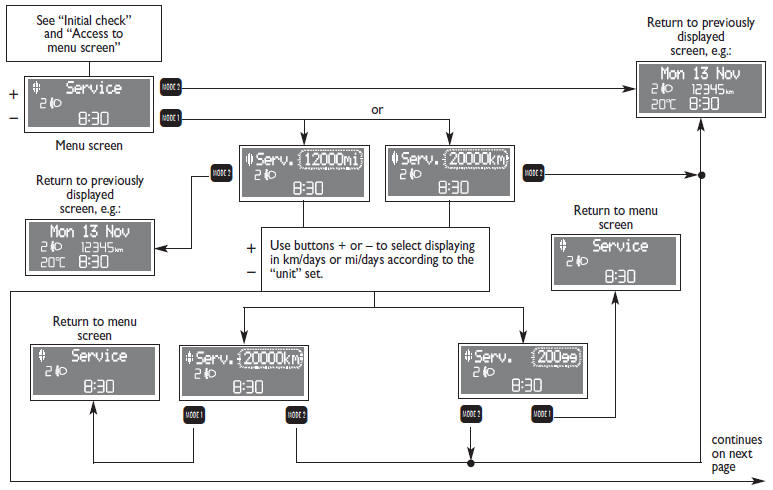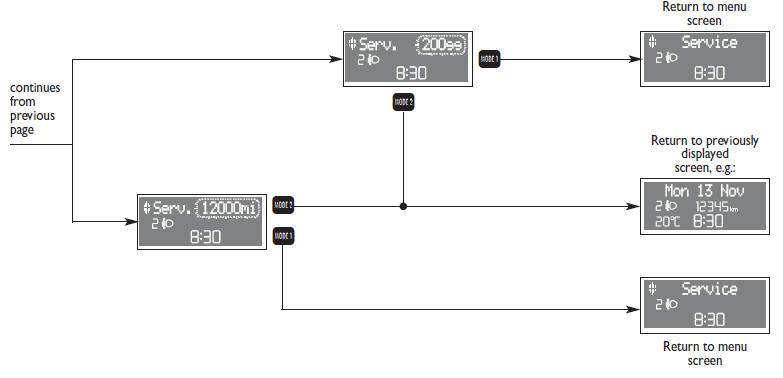 The "Service schedule" includes vehicle maintenance every 20,000 km (or 12,000 mi) or every year; this is shown automatically, with the ignition key at MAR, starting from 2,000 km (or 1,240 miles) or 30 days from this deadline and it is shown again every 200 km (or 124 mi) or 3 days. For 1.3 Multijet versions, see "Car Maintenance" in section "Service schedule to change engine oil and filter and air cleaner. Below 200 km service indications are proposed at shorter intervals. Service intervals will be displayed in km or mi according to the unit set. When a programmed maintenance interval (coupon) is near to come, turning the ignition key to MAR, will display the message "Service" followed by the number of km, or days to go before car servicing. "Scheduled servicing" message is displayed in km, miles or days according to the approaching service interval. Contact a Fiat Dealership to carry out any service operation provided by the "Service schedule" or "Annual inspection plan", and to reset the display.
See also:
Carrying children safely
For optimal protection in the event of a crash, all passengers must be seated and wearing adequate restraint systems. This is even more important for children. According to 2003/20/EC Directive, t ...
Height adjustable steering wheel
In certain versions, the steering wheel can be adjusted vertically: 1) Move lever A-fig. 63 to position 1. 2) Adjust the steering wheel. 3) Take the lever back to position 2 to fasten the steering ...
The signs to help you drive correctly
The signs you see on this page are very important. They highlight those parts of the handbook where, more than anywhere else, you should stop for a minute and read carefully. As you can see, each ...