Through the "Service" function it is possible to receive information connected with correct vehicle maintenance.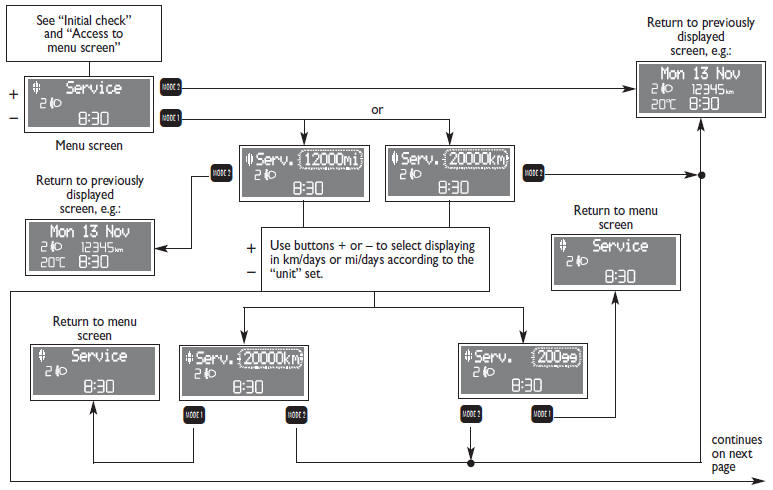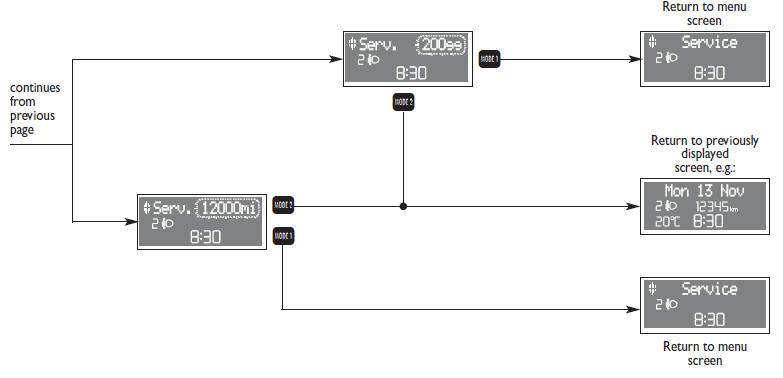 The "Service schedule" includes vehicle maintenance every 20,000 km (or 12,000 mi) or every year; this is shown automatically, with the ignition key at MAR, starting from 2,000 km (or 1,240 miles) or 30 days from this deadline and it is shown again every 200 km (or 124 mi) or 3 days. For 1.3 Multijet versions, see "Car Maintenance" in section "Service schedule to change engine oil and filter and air cleaner. Below 200 km service indications are proposed at shorter intervals. Service intervals will be displayed in km or mi according to the unit set. When a programmed maintenance interval (coupon) is near to come, turning the ignition key to MAR, will display the message "Service" followed by the number of km, or days to go before car servicing. "Scheduled servicing" message is displayed in km, miles or days according to the approaching service interval. Contact a Fiat Dealership to carry out any service operation provided by the "Service schedule" or "Annual inspection plan", and to reset the display.
See also:
Front airbags
Front airbags (driver and passenger) have been designed to protect the occupants in the event of head-on crashes of medium-high severity, by placing the cushion between the occupant and the steeri ...
Climatic comfort
Air distribution Knob D-fig. 72 directs the air inside the passenger compartment according to five levels: conveys the air to the central and side vents directly to the body (face/chest); conve ...
Failure warnings
In the event of failure, the ESP system is automatically disconnected and the instrument panel warning light á will come on with fixed light together with the message on the reconfigurable ...