The Vehicle Identification Number (VIN) is found on the left front corner of the instrument panel, visible through the windshield. This number also appears engraved on the right front door sill under the sill scuff plate, on an adhesive label applied to the right door opening on the B-Pillar, on the vehicle registration and title.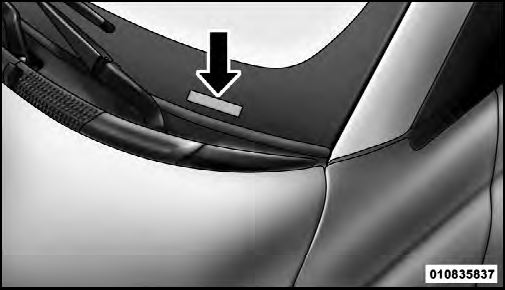 Vehicle Identification Number

Stamped VIN Location

NOTE: It is illegal to remove or alter the VIN.
See also:
Set-up menu
The number of items in the menu depends on the car settings. When travelling, only the "Speed limit" indication is enabled. The "Set-up Menu" enables to perform the following adjustments and/or sett ...
Materials Added To Fuel
All gasoline sold in the United States is required to contain effective detergent additives. Use of additional detergents or other additives is not needed under normal conditions and would result ...
General instructions for using the seat belts
The driver must comply with (and have the vehicle occupants follow) all the local legal regulations concerning the use of seat belts. Always fasten the seat belts before starting. Seat belts are ...