The presence and the position of the instruments and warning lights may vary according to the versions.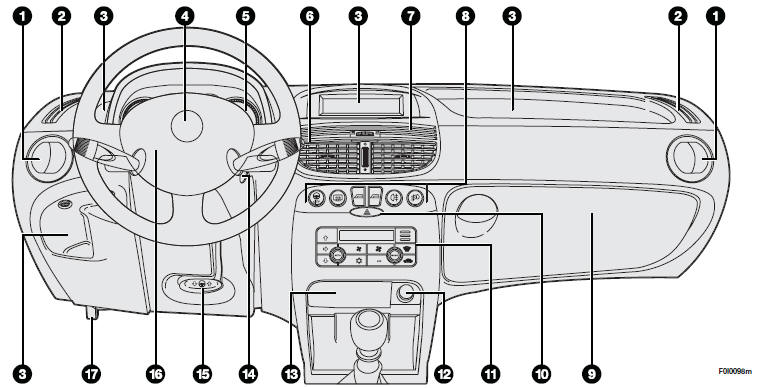 1. Side swivel vent - 2. Side fixed vent - 3. Oddment compartment - 4. Horn - 5. Instrument panel - 6. Central swivel vent - 7. Central fixed vent - 8. Central controls - 9. Glovebox - 10. Hazard light switch - 11. Controls for heating, ventilation and climate control - 12. Cigar lighter - 13. Ashtray - 14. Ignition switch - 15. Steering wheel adjustment lever - 16. Front passenger air bag - 17. Bonnet opening lever.
See also:
Emergency start-up
If the Fiat CODE system fails to deactivate engine immobilising system the warning lights Yand U stay on and the engine cannot be started. To start the engine the emergency start-up can be performe ...
Message Reader
The BLUE&ME™ message reader enables automatic reading, through the car sound system, of the SMS texts you receive on your Bluetooth wireless technology mobile phone that are received when the ...
Engine starting
It is dangerous to let the engine run in a garage or other closed area. The engine consumes oxygen and gives off carbon dioxide, carbon monoxide and other poisonous fumes. Do not touch the high ...