The tires on the front and rear of your vehicle operate at different loads and perform different steering, driving, and braking functions. For these reasons, they wear at unequal rates and tend to develop irregular wear patterns.
These effects can be reduced by timely rotation of tires.
The benefits of rotation are especially worthwhile with aggressive tread designs such as those on all season type tires. Rotation will increase tread life, help to maintain mud, snow and wet traction levels, and contribute to a smooth, quiet ride.
Refer to the "Maintenance Schedule" for the proper maintenance intervals. More frequent rotation is permissible if desired. The reasons for any rapid or unusual wear should be corrected prior to rotation being performed.
The suggested rotation method is shown in the following diagram.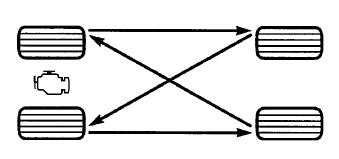 Tire Rotation
See also:
Fix & go (quick tyre repair kit)
On request the car can be fitted with a quick tyre repair kit, called "Fix & Go", replacing the common tool kit and the spare wheel. The Fix & Go kit is located in the boot under the moquet ...
Gasoline/Oxygenate Blends
Some fuel suppliers blend unleaded gasoline with oxygenates such as 10% Ethanol, MTBE, and ETBE. Oxygenates are required in some areas of the country during the winter months to reduce carbon mono ...
Tire Pressure Monitoring System (TPMS)
The Tire Pressure Monitor System (TPMS) will warn the driver of a low tire pressure based on the vehicle recommended cold tire pressure. The tire pressure will vary with temperature by about 1 psi ...