The tires on the front and rear of your vehicle operate at different loads and perform different steering, driving, and braking functions. For these reasons, they wear at unequal rates and tend to develop irregular wear patterns.
These effects can be reduced by timely rotation of tires.
The benefits of rotation are especially worthwhile with aggressive tread designs such as those on all season type tires. Rotation will increase tread life, help to maintain mud, snow and wet traction levels, and contribute to a smooth, quiet ride.
Refer to the "Maintenance Schedule" for the proper maintenance intervals. More frequent rotation is permissible if desired. The reasons for any rapid or unusual wear should be corrected prior to rotation being performed.
The suggested rotation method is shown in the following diagram.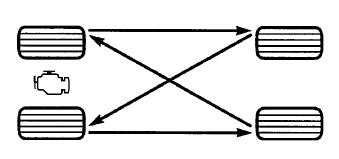 Tire Rotation
See also:
Fan speed adjustment
Proceed as follows: ❒ open completely central vents and side outlets; ❒ turn knob (A) to the blue sector; ❒ slider (B) at ; ❒ turn knob (C) to the required speed; ...
Service (Service)
Through the "Service" function it is possible to receive information connected with correct vehicle maintenance. The "Service schedule" includes vehicle maintenance every 20,000 km (or 12,000 ...
Operation
Each time the car is started turning the ignition key to MAR, the Fiat CODE system control unit sends a recognition code to the engine control unit to deactivate the inhibitor. The code is sent o ...